Are you a divorce lawyer and struggling to get the leads you need? Use these three AdWords tips to boost your leads, maximize your ROI, and get the very most out of your AdWords campaign, all without spending another dime or increasing your budget in the least.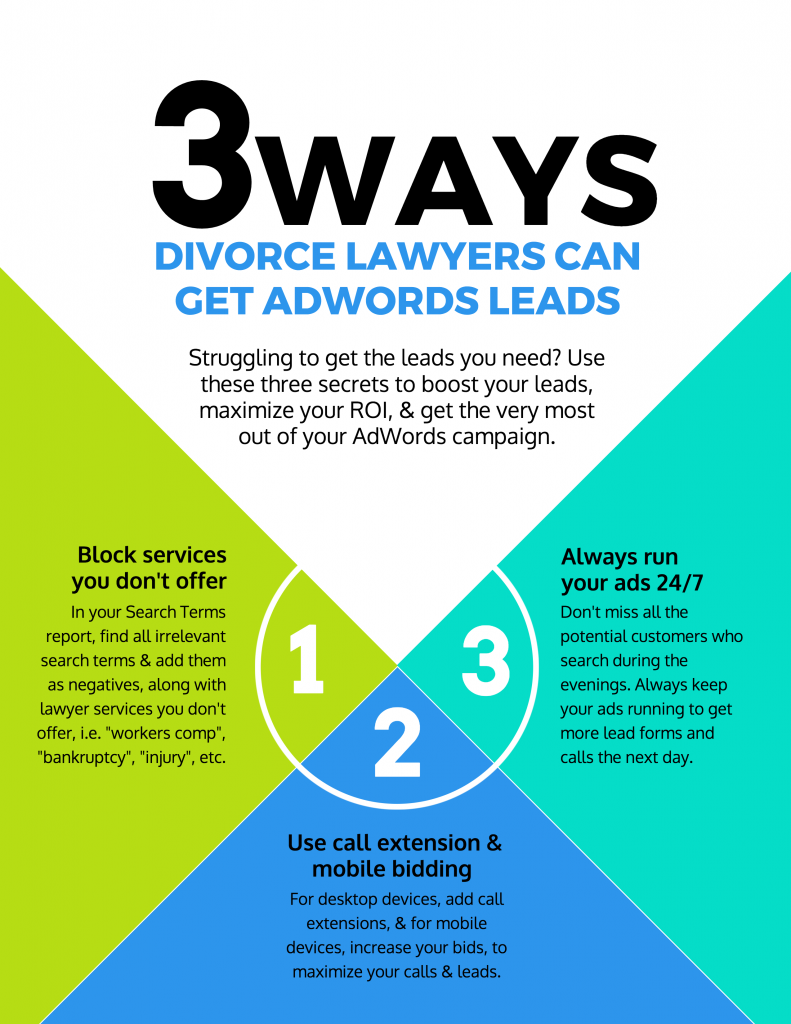 Filter out the services you don't offer.
Many lawyers get a lot of searches in the Search Terms Report that are completely irrelevant to what they offer. Thus, you must weed them out. If you only do divorce, you must block search terms like bankruptcy, injury, wills, estates, and every other type of legal service that has nothing to do with divorce.  Add these other services you don't offer as negative keywords.
Don't be afraid to add lots of negative keywords. Go through your search terms report and do a fierce, exhaustive slash and burn. Gather and brainstorm all the terms you never want to show up on, and add them all as negatives.
When you do this, Google will redirect your daily budget towards the searches you DO want to target, like divorce lawyer near me and affordable divorce attorney.
Another tip: be careful to block terms that are too vague. If your divorce practice is in Atlanta, one search term you may want to block is local Atlanta lawyer. This term is not specific enough. Is this person looking for a divorce lawyer? They might be, but that's the problem. They didn't specify. There is an equally high chance that they are looking for an injury lawyer.
Don't take that risk. Spend your precious advertising dollars on more absolute, specific search terms you know for sure can bring in a quality lead.