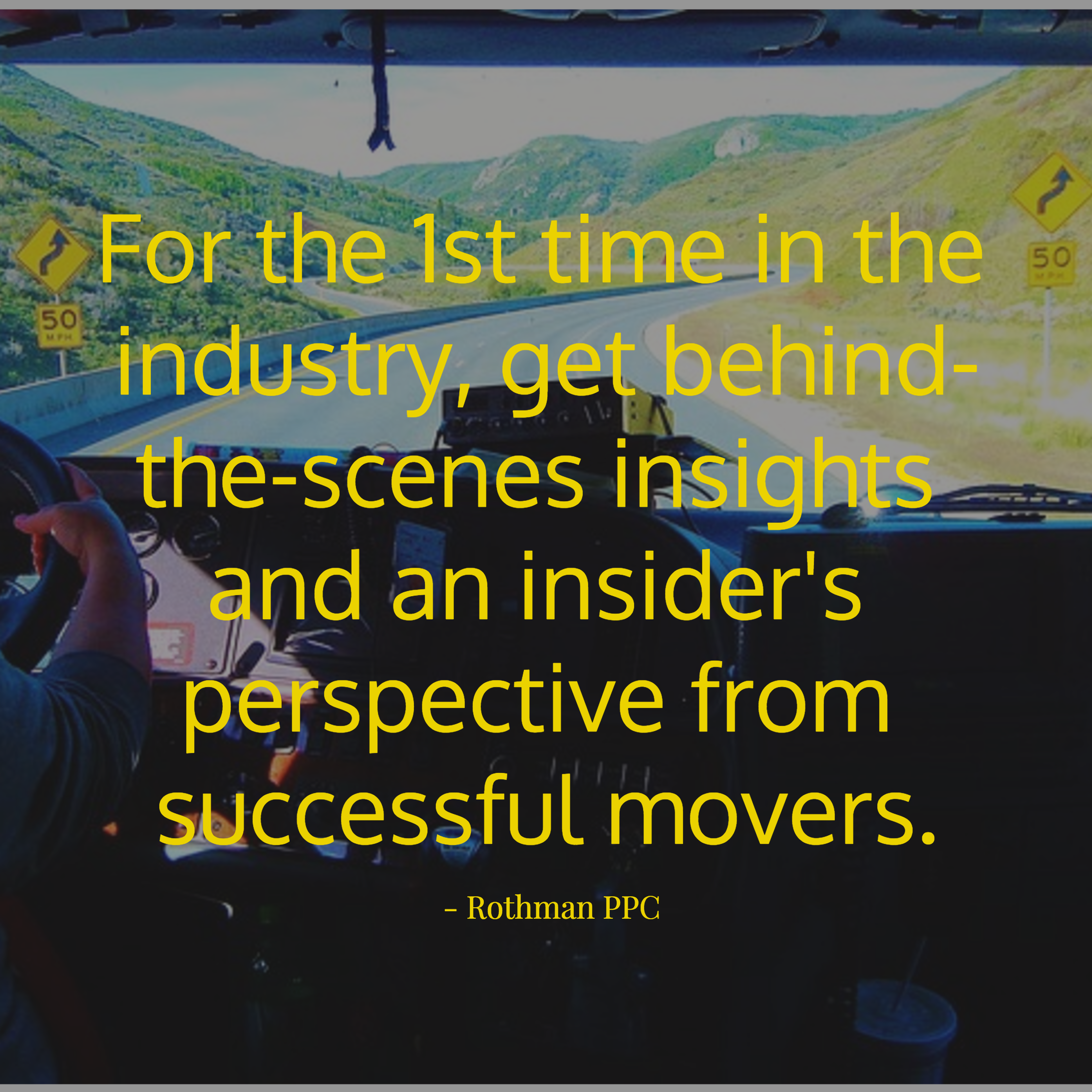 Questions, questions, questions.
When I worked for a moving company a few years ago, our office talk was dominated by questions.  We knew we were doing a good job for our customers, and we thought we were doing everything right in terms of pricing, move structure, marketing and things like that.  But we were never 100% sure we were doing everything correctly because we didn't really have anyone to compare our work to.
We always wondered what the other guys in town were charging.  We always wondered how other moving companies structured their movers.  We always wondered where other moving companies got their leads from.  And we had plenty of other questions about our competition.
Answers to our questions didn't seem to be anywhere online, and we pretty much just kept our heads down, went to work, and were resigned to the fact that we'd never get good information or advice about how other moving companies ran their businesses.
I've since left that moving company, and now run my own marketing agency.  But my roots in the moving industry are still deep.  I specialize in moving company marketing, and I manage AdWords and Bing search engine advertising campaigns for movers all over the world. From California to Africa, and everywhere in between, I'm getting my clients hundreds of leads per day, and helping them book thousands of moving jobs each month.
Given my access to many movers across the world, I thought I would set up this survey so my clients and other moving companies can learn from each other and improve their businesses.
So I set up an anonymous survey and asked eight of my clients to participate.  I asked all the common questions that I used to ask when I worked at a moving company and that movers ask themselves all the time.
And now finally, and for what I believe is the first time, there is this information and answers to these questions online that moving company owners can look at and compare what they do to what other movers are doing.
I hope you enjoy this survey and find it useful.  Let us know what you think of these answers and how it compares to your experience.  And get in touch if you'd like help getting more moving leads from Google and Bing.
Survey Notes
The method to this survey was simple.  I asked my clients, who are moving company owners, the questions below, and they supplied me with their answers.
Answers are published here on an anonymous basis, as anonymity in this case is required to get answers for such sensitive questions.
Keep in mind that the moving business is very much a localized industry, and of course rates and other factors can vary a lot in different markets.  The movers whose answers are below are from all across the country.  Some are from major cities, some are from smaller areas.  And some are larger, more established companies, while others are still very small businesses.  There's a good mix of both small and larger companies, and there's a good mix geographically as well.
Answers posted below are in italics.  Each line is a separate mover's answer.  Answers are the exact quotes I got, just cleaned up slightly to fix grammatical and spelling issues.
1. How do you price your moves (by the hour, by the man, flat fee, truck charge, etc.) and what do you charge?   
We charge by the hour and man plus a service fee which is the truck fee. Hourly we charge $129 for 2 men, $165 for 3 men, and $180 for 4 men.
Flat rate and hourly.
We charge by the hour for local moves ($75-$95 depending on the season, all included, no other fees).
Usually flat fees for interstate moves. Hourly for local. $90/hr for two men and one truck.
If we quote over the phone we usually quote an hourly rate for local moves, but if the move sounds large or long distance we push for in-home estimates where we give flat rates. We charge by the crew size.  2 men is $100/hour, and 3 men is $130/hour.  And we also charge a one time truck fee.
We charge by the hour on local moves, and by volume on interstate moves.
By the hour for local moves, and flat rate for long distance moves.
I price my moves by the hour and by the man.  We only flat rate a job if we go out and on-site the job so we know exactly what we are in for.  2 men is $125 to $135 per hour and 3 men is $175 to $199 per hour.  No fuel surcharges, no hidden fees.  One hour for travel on all local in the area moves.
2. What is your average revenue per 
moving

 job?

Average revenue is about $1,010.

$450

Our jobs gross about $280 on average.

Average revenue from interstate moves is $4,000. Local moves average $800.

Around $500.

$800

Average job invoice is $800.

$1,000
3. How do you structure your moves (how many men, etc.)?
It usually is determined by how much volume or cubes are involved. But on average 1 bedrooms get 2 guys , 2 bedrooms get 3 guys, 4 bedrooms get 4 guys and so on.
2 men and a truck is our most common move structure.
Usually it is 2 men and a truck for studios and 1 bedrooms, and 3+ men for 2-3 bedrooms and larger.
We determine number of men by the estimated weight of the shipment. 5,000 pounds and under gets 2 guys. 7,000 pounds definitely is 3 guys. 9,000 pounds is 4 guys, 11,000 pounds is 5 guys. And for anything over 16,000 pounds, the move goes easier with 6 or more guys.
For small moves we send two men, if any stairs are involved or if it's a large home we push for three men.  For flat rate moves it just depends on our day and what we have going on.
For studios and one bedrooms we use a 2 man crew, for two bedroom homes we use a 3 man crew, for three to five bedrooms we use a 4 to 6 man crew with 1 or 2 trucks.
We determine how many men we need on a move by how big of a place are we moving.  Is it on the ground floor?  Is there three flights of stairs?  Is the job in a high-rise?  Is there anything heavy?
4. What percent of your annual revenue comes during the summer months aka the season?
45% to 55% is usually the percent of annual revenue that comes in during summer.
60%
About 55% of our annual revenue comes during May through September.
45%
30% to 40%
50%
30% to 40%
70%
5. How do you get your 
moving

 jobs?  What's your best source of business?

Google ads, Thumbtack, direct mail, and general search SEO.

Google.

Ranging from our highest volume source to lowest: Yelp, referrals, AdWords, local SEO, and more general SEO.

Internet leads.

Previous customers and referrals.

Yelp Ads

Google ads and direct mail.
6. Do you rent trucks or own trucks, or do a combination?  What's your advice and thoughts on renting vs owning trucks?
I rent and lease currently. I'm hoping to start buying soon because it can cut costs.
Rent, all the way. No repair costs. Less stress.
We own trucks. Renting trucks can only be profitable on long distance moves in our opinion.
Own trucks. Always own. Rent when you can't use the trucks that you own.
We own our trucks. I've never rented trucks so I wouldn't know the benefits, but it just seems like an added expense.
We do both. Renting is a lot more expensive.
We own all our trucks. We only rent trucks on weekends and end of the month busy days. We also prefer short term rentals for long distance jobs, so we don't put miles on our own trucks. Don't have experience leasing or financing new trucks.
I own trucks, and I lease trucks. Rent trucks only when necessary, as they cut into all of the profit on moves. Never rent trucks unless you have too.
7. How do you find and keep good labor?
Word of mouth from my good employees. We pay them well and give incentives.
We like working with motivated, legal immigrants and you better pay $15 an hour to get good help.
It is really hard to find reliable workers. Especially with our policy of providing a high standard of customer service. A lot of our guys come from word of mouth, we also work with colleges and sports facilities to find new people. We offer good salaries, bonuses, and an amazing work atmosphere, and that is what makes our guys love to work in our company.
I'm still working on it. Local newspapers brings in some veterans and stable people as opposed to high school brats or druggies.
This is the hardest part. We are constantly looking for new help. No matter how much you pay and the benefits you offer, it's still hard to keep a good employee in our industry due to the nature of the work and how taxing it is on the body.
Really hard to do these days.
Craigslist, Indeed.com, and referrals. Weekly bonuses, opportunity to grow within company, and long distance jobs only within 500 miles are all good motivators to stay with the company. Only the best crews go on long distance jobs and it's good money for them.
Pay them top dollar for their work. Good movers are hard to find and if you take care of them they take care of you. And in the long run it makes your job easier.
8. What's the smartest thing you've done for your 
moving

 

company

 in the last year?

Raising my pricing and focusing on gathering good reviews to build a good online reputation.

Stabilized our work force. And we also sold all our trucks (just rent now), and focused on controlling costs.

Starting to work with Rothman PPC was one of our best moves in the last year. 

Investing in the business, advertising, and purchasing internet leads.

Hired someone to help with my online presence. I tried to do it myself, but I was wasting lots of money. You need to find someone you can trust and talk to directly, and any large company that has 1-800 number is going to give you trouble.

Investing in my sales team and online reputation.

Invested money to hire a full time sales manager.

Lowered my overhead.
9. What is the most difficult part of running a 
moving

 business?

Finding credit, brand and reputation management issues stemming from things out of our control, and finding more good labor.

Customers who try to scam you, and labor force issues.

Super seasonal business, high competition.

Finding time to do everything else in life.

Finding and keeping good workers that know how to move furniture, deal with customers, and drive trucks.

Managing human resources, and dealing with problematic customers.

Customer claims and employees.

The day to day issues that arise, putting out fires so to speak.
10. What is your advice for someone just starting a 
moving

 

company

?

Learn as much as you can from other owners who have been in the business a long time. Find a mentor.

Don't do it, this is a tough industry. But if you do jump in, make sure you can handle the moves you take on and stay engaged with the labor force.

Make sure to do the best research you can. Try to plan in advance and know how you are going to scale, buy equipment, and get customers.

DON'T be afraid to invest heavily early. You are all in or not. You have to be smart with your money, so don't throw your money into an advertisement scheme without you doing the research.

Don't go cheap on your equipment, get good dollies, straps, wrap, pads, etc.  Have a good customer service rep, and get reputable online help.

Don't!

Diversify your marketing, create great content, and pick quality over quantity and the money will follow.

Make sure you're prepared for the commitment.  24 hours a day, 7 days a week.  Make sure you have proper funding and have a full understanding of what a good move looks like!
Similar Posts: