A few weeks ago I went to a local home and garden show here in Oklahoma City to support a local moving company client of mine.  As I walked around this home and garden show I saw tons and tons of home service provides.  There were lots of moving companies, plumbers, storm shelter providers, and of course, roofers.  There were tons of roofers, and one roofing company happened to be a booth neighbor to the moving company I work with.
I struck up a conversation with the roofing company's marketing manager and she had lots of questions about SEO and how to get more traffic from Google for her roofing company. She had been burned by a couple SEO companies in the past, and she wanted to know how to do the SEO work herself.  We talked for awhile and I advised her on three SEO strategies she can do herself without having to hire professionals.  These tips can apply to all roofing companies, and actually all home service providing companies.  My do it yourself SEO tips I gave her are listed below.
1.  Blog, blog, blog
The worst thing you can do for SEO is to have a stagnant website with no content.  That is what doesn't work.  So do the opposite.  Have a website that is full of great content and a blog that you continually update with great content.
If someone goes to Google and types in "Phoenix roofers," then Google wants to give their user the absolute best resources on all things Phoenix roofing.  So if you're a roofer in Phoenix, make your website the ultimate resource on Phoenix roofing.  Have great content pages that show prospective customers how to find out if a roofer is licensed, etc.  And on your blog, constantly give out great advice that will help users find a roofer in Phoenix.  If you do that, you'll get lots of traffic from SEO, eventually, and a good percentage of that traffic will pick you to be their roofer.
2.  Shop Local Websites
Shop local websites are a great place to get both quality links and referral traffic.  Google "shop local + you city" and in most major cities you'll find a good "shop local" directory.  Get listed on that website and you'll get a quality link and also good referral traffic.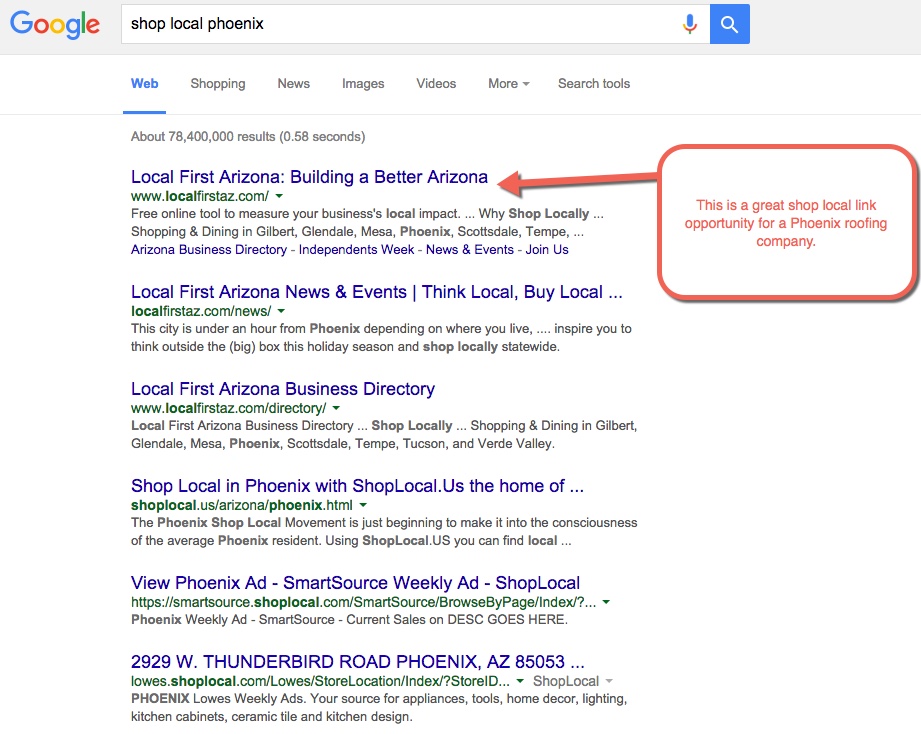 Shop local link opportunity examples:
Phoenix – www.localfirstaz.com
Austin – www.ibuyaustin.com
3.  When link building, act as if Google doesn't exist.
SEO success is a combination of two factors.
A great website with quality content.
Quality links pointing to your website.
So you need both great content and great links for true long-term SEO success.
Content – We talked about it above.
Links – Go out and get links that you would want even if Google didn't exist.  If Google didn't exist you would still want a BBB link, you'd still want a "shop local" link (mentioned above), you'd still want a link from a story in your local newspaper's website, and you'd still want a link from your local chamber of commerce.
All those links will send quality referral traffic, and you'd want them even if Google didn't exist.  And the irony of the situation is that these quality links that send referral traffic are the best kinds of links you can get for moving up the rankings in Google.  When Google sees that quality websites and organizations in your city are linking to you, Google will recognize those links as a sign of your company's quality, and eventually you'll move up in the rankings and get more traffic from Google.  So the best way to move up in Google's rankings is to act as if Google doesn't exist and get quality links you'd want to get solely for branding and referral traffic purposes, and in the long run these links will help you get more traffic from Google too.
So build quality links that you'd want even if Google didn't exist. And if you do that, you'll get both more referral traffic and more traffic from Google.
Similar Posts: