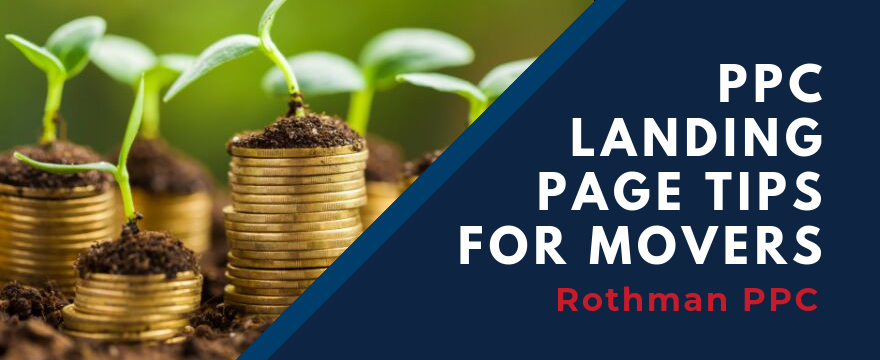 If you are a moving company, you probably have many questions regarding how to set up your website or landing page for the greatest success with your pay-per-click (PPC) Google Ads or Bing campaigns. Should I use a landing page or a website? What about pop ups? How do I choose a good landing page provider? How should I set up my webpage to maximize my leads? 
We're here to help. With years running Google Ads campaigns for movers, we've acquired quite a bit of experience in moving company advertising and can tell from a glance if a mover's webpage is more likely to be a hindrance or a help to your advertising goals. So, we're excited to help you avoid the most common pitfalls and craft a killer landing page that will most effectively capture leads. 
You may have stumbled upon the great custom-landing-page vs. website debate. At the end of the day, either can work great. What's important is that you take the user to the most relevant page for their search. If they searched for an office mover, be sure to take them to the office moving service page; if they searched long-distance moving, take them to your long-distance page. Generic catch-all pages are going to be far less effective than tailored pages (either website or landing pages) for the particular search that leads to that click.
Let's dive into 6 strategies for crafting your moving company web pages for the most effective lead generation! All these tips apply to both landing pages and custom website pages, and a moving company website should typically be treated like a lead generation landing page anyway. 
Here we go! Here are several vital components to the best moving company landing pages we've seen:
1. Lead Forms Above The Fold
Let's break this down. In web design lingo, a lead form is a form which gathers your prospective customer's contact information — email, phone number, and what type of move they need — so, you can get in touch with them. 
"Above the fold" is anything visible on the web page without scrolling. You want your lead form to be visible immediately on your landing page, without having to scroll down to find it.
A "call to action" tells your prospective customer what to do next. A call to action most often dramatically increases your conversion rate, so don't leave it out. Examples include: "Call Today!" "Get A Free Quote Now!" or "Schedule Your Free Moving Consultation!"
2. Short Lead Forms
When determining what your lead form needs, keep in mind: Brevity is king. An ideal lead form should give you all the info you need to follow up, and that's it. If your lead form is 10 or 20 questions long, you will lose leads. Very few people take the time to fill out long lead forms. 
Keep in mind that, these days, many people search from their smartphones. Thus, attempting to navigate your website and fill out the lead form without fat-fingering can quickly create frustration. So make your lead form as easy, simple and quick as possible to maximize your leads.
3. Use Huge Phone Numbers
Big phone numbers above the fold encourage your leads to call you on the spot. Don't make your phone number hard to find, way down at the bottom of the page in tiny font! Use a large font and a bold color at the top of the page so your prospective moving customers see it immediately. Remember, the point is to encourage immediate action and get more leads. So be sure to include your phone number in large digits. 
4. Try Pop-Up Forms
One strategy movers can use is pop-up forms. Try a popup form when your potential lead has been on the site for 30-60 seconds, asking for simple contact info and offering them a free instant quote. Just don't slam them with a pop-up before they've had a chance to look at the webpage you've so carefully crafted. 
We like the provider Unbounce for their landing page and pop-up software. Check out their unique pop-up options here.
5. Use Real Pictures
Put yourself in your customer's shoes. She doesn't want to get scammed. She doesn't want her treasured possessions, her information stolen or her bank account hacked. All she wants is a reputable mover for a good price, someone she can trust to come into her home and pack up sensitive and valuable personal items like documents and photos. She wants – no, NEEDS – to know that you are legit. 
So prove to her that you aren't a scammer. How? One way to demonstrate your credibility is to include lots of pictures of real movers and trucks. If you're family owned, a family picture with the family dog goes a long way to establish that you're good people. Use pictures to show her you're a viable company she can trust. 
6. Use Customer Testimonials
Speaking of trustworthiness, another way to build up your credibility is to include links to independent review sites, such as Yelp and the Better Business Bureau, and customer testimonials directly on your website. The best testimonials are in video format so that your prospective customer can see that it's a real review from a real former customer.
Video or not, testimonials and customer reviews act as excellent social proof, like a personal recommendation. People like to see that other "normal" people, i.e. other customers, approve of your business.
Another type of testimonial you should definitely include, if you can get it, is from well-known social institutions. If you are the official mover for a well-known local business, for example a popular burger chain or a museum, be sure to say so. That kind of endorsement is an awesome shot in the arm for credibility!
Recommended Landing Page Providers
Here are our two favorite landing page providers. We have used both platforms for various clients and have seen increased leads with both! The nice thing about a landing page provider is that it does all the heavy lifting for you – you don't have to know anything about computer programming, code, or computer languages, it's just a drag and drop software that is easy to use for those who aren't tech-savvy. 
At the end of the day, always treat your leads like gold – because they are. You spent your treasure to get them, and the only way you'll recoup those advertising costs is to convert those leads into paying customers. So follow up on lead form submissions as fast as possible, and answer every phone call. Otherwise, all your efforts for running advertising and creating landing pages will be in vain.
Similar Posts: