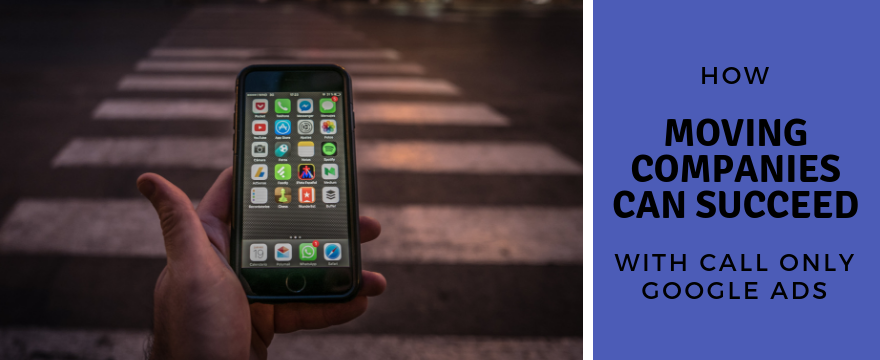 Have you heard of Call Only ads? Have you ever wondered if they could benefit your moving business? Well then, you are in the right place. Welcome to your Guide To Call Only for Movers! We have a few insights regarding call only Google ads you will appreciate.
What Are Call Only Ads?
Let's start with the basics. What are Call Only ads? These ads drive phone calls to your business by encouraging people to call you when they click or tap your ad. Instead of headlines, they feature your business's phone number, so people who see the ad simply click to call you.  So you get calls immediately when people see the ads, rather than having to route them to your website first and hoping they call from there. These ads run in the search network and only show up on mobile devices.
Why Should Movers Use Them?
It's easy to see why Call Only ads would be beneficial to a moving company. Movers live or die by leads – leads are the air they breathe. And although clicks to your website are nice, your end game is to get phone calls and lead forms. Call Only ads get you phone calls by bypassing a step – i.e. visiting your website – and getting the customer on the phone with you immediately.
Not only that, but most moving customers want to talk to a real person. It's hard to fill out a lengthy quote form from their phone, so a simple call is easier and quicker. They also don't have to go to your website and hunt for a phone number – they can simply make an instant call. Call Only ads make the user experience the easiest that it can be. Any moving company on AdWords that isn't using Call Only ads is missing out.
Tips On How To Use Them
Here are several tips on how to get the most out of your call only ads.
To set up your call only ads, you'll need to set up a new campaign with the "call only" campaign type.

Only run your call only ads during times you can take calls. If you run your ads during times when you can't take calls, those clicks will be completely wasted, so be sure to set your ad schedule to match your call schedule. You can set up your ad schedule in your campaign settings.

On the same note, be sure to answer every call you receive. If you miss a call, that person will call the next moving company they find on Google and that lead will be gone, after you've already spent the money to get it.

People who search on mobile tend to click on the first result or two that they see. So, on mobile, you want to show up above the fold, i.e. before needing to scroll down.  Thus, you'll probably need to be in position 1 to 2 to get volume you want.

Be prepared to pay up with a slightly higher CPC (cost per click) for these phone call clicks, especially if you are aiming for position 1 or 2. Call only clicks are quite valuable since you jump right to the call, so they will be slightly more competitive. But that added value typically makes the extra cost worth it to the average moving company.
Additional Call Only Resources
Dominate Call Only Ads On Google – Paid Search Podcast
About Call Only Campaigns – Google Ads Help
Do you want help to set up your Call Only campaign?
We'd love to help. Get in touch with us today!
Similar Posts: