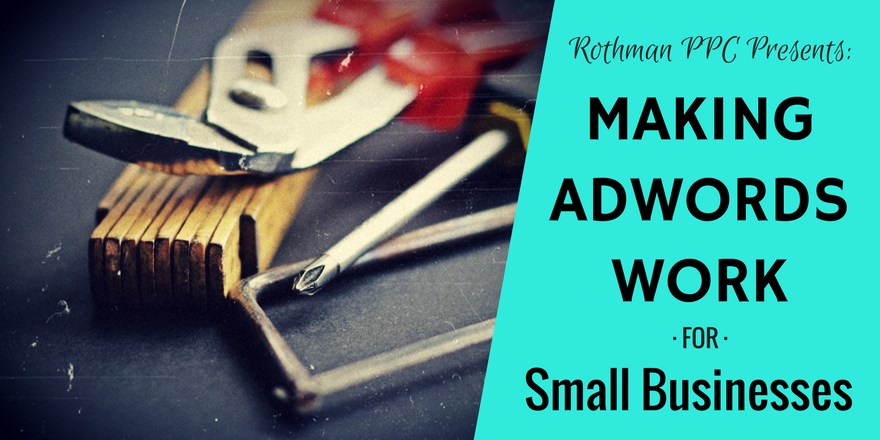 Hey, small businesses! Do you ever struggle to get a reasonable ROI, to find leads, or to get effective advertising on a small budget? Have you ever wanted to make AdWords work for you, but didn't have the time to learn the system? We have a special announcement just for you. Drumroll, please….
Welcome to our new series on Making AdWords Work For Small Business!
We are writing a series of 16 information-packed articles for people like Stone Wesson.
Meet Stone, the 35-year-old owner of Wesson & Sons Moving, His father started their family-run moving business as a moving company committed to old-fashioned, high-quality service, and they have served the Dallas-Fort Worth metro area for the past 40 years. Stone is proud to carry on the family name, and he wants to make his old man proud, so he is determined to make the business thrive.
But over the last 5 years, business has steadily dropped, and he doesn't know why.
He and his staff consistently deliver high-quality moves, and customer satisfaction is high. He is listed in the the phone book and runs a billboard or two, but the advertising doesn't seem to be making the difference it used to. He doesn't know why the phone has stopped ringing. Because he has a wife and three beautiful kiddos to care for, he is growing more and more stressed as weeks pass with fewer and fewer phone calls and leads.
Then Stone hears about AdWords. He likes the idea of advertising on Google searches, and it bugs him that whenever he searches "wesson & sons moving company" in Google, his biggest competitor's ad shows up first. But he has no idea how to advertise online. With the responsibilities of full-time CEO, accountant, hiring manager, husband and dad, he feels like he doesn't even have the time to figure out where to start. And he doesn't want to waste a bunch of money if AdWords can't actually work for him.
We are writing this series of articles for people like Stone – small business owners who need a hand. Perhaps that sounds like you. You want to try AdWords, but you don't have hundreds of hours to devote to learning the AdWords system and how to run it profitably.
Welcome to the introductory article in our crash course on Google AdWords!
We are here to distill all of those hundreds of hours of learning into the core essentials. This series is meant to guide you from knowing nothing about AdWords to knowing everything you need to effectively and profitably run a lead-generating campaign. Brace yourself for 16 power-packed, information-rich articles!
In Section 1, we give you a big-picture overview of why you should advertise on AdWords.
In Section 2, we roll up our sleeves and walk you through the nuts and bolts of setting up your first search campaign.
In Section 3, we provide insights into effective ongoing management of your AdWords campaign.
In Section 4, we offer a crash course on Remarketing campaigns, how they can benefit your business and how to set one up.
Finally, in Section 5, for those who want to go deeper, we provide additional resources to dive into the wider world of AdWords and insights on choosing an AdWords manager.
Get equipped to make AdWords work for your business, office or firm – we hope you'll join us. The best part is, the entire series will be FREE, right here on the blog!
Don't miss a single post. Be sure to subscribe to our email list to get each article as it comes out!
Similar Posts: