If you're a mover, you well know that the moving industry is competitive on Google Ads. Running ads can sometimes feel like you're clawing tooth and nail to succeed against all the other moving companies who are advertising against you without letting your costs rise too much. Are you are looking for more ways to increase your profitability without spending more money?
The good news is, your campaign can get the edge for FREE with a secret weapon: Ad extensions.
We all know that Google limits the length of your headlines and description lines with character limits. Thankfully, ad extensions allow you to append more text to your ads and increase the size of your ad without transgressing those character limits. Ad extensions make your ads appear bigger, thus gaining more visual prominence on the search results page. The larger your ads, the more your audience's eyes will be drawn to them, and the more likely you are to get more clicks!  With more clicks, your CTR (click through rate) will increase, and with a better CTR your quality score will improve – which Google rewards with higher Ad Rank.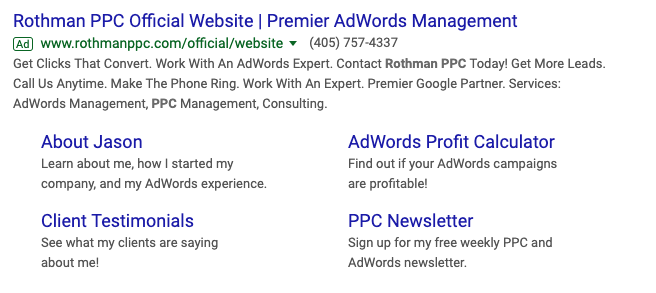 So adding free ad extensions can improve your CTR and position both directly and indirectly – directly by increasing the size and prominence of your ad, and indirectly by improving your ad score and rank. Ad extensions are available to all Google advertisers in the Google Ads dashboard. Since they can only help your campaign to succeed, be sure to set yours up ASAP!
Here are the top 4 ad extensions we recommend to all moving companies, plus ideas on how to use them for your moving campaign:
Callouts
Callouts are snippets of informational text, similar to headlines, that provide more information about your business to your audience. They appear below the description lines. Examples for movers could include: "Licensed & Insured," "Moving NYC 40+ Years," "Professional Movers," etc.
Sitelinks
Sitelinks are links beneath the main body of your ad that link to different pages of your website, such as "About Us," "Moving Tips," "Commercial Moving," "Get A Quote," etc. Under the title for your sitelink, you should include a brief description of that page, i.e. "About Us – Trusted NYC Home & Office Movers Since 1960."  Often these descriptions don't show up, but it is good to have them in there because sometimes they do show up, especially on brand keywords. Sitelinks can significantly beef up your ads, so these are the most helpful for increasing the size and visibility of your ads.
Call Extension
The call extension allows your customers to call you directly from your ad. By including your phone number in a call extension, people are able to click to call without even visiting your website. Boom! New lead!
Structured Snippets
The structured snippet extension allows you to list out all the services you provide. A sample for movers could look something like: "Services: Residential Moving, Commercial Moving, Packing, Storage."
Remember, every extension you add is a free way to boost clicks, CTR, conversions, ad rank, and all your other metrics, so add as many as are applicable to you!
Campaign vs Ad Group Extensions
In Google Ads you also have the option to add both campaign & ad group extensions. The difference between campaign level extensions and ad group extensions is that ad group extensions will always get priority over campaign extensions if ad group extensions are present (if they're not, the campaign level extensions will apply).
Campaign level extensions are better than nothing, but if you want to take your campaigns to the next level, you can create ad group extensions specific to each ad group. For instance, on your long distance ad group, you can add long distance related callouts, and then in the packing ad group you can add sitelinks for the packing service page, packing blog articles, etc. We always recommend adding extensions specific to each ad group for maximum impact!
Similar Posts: