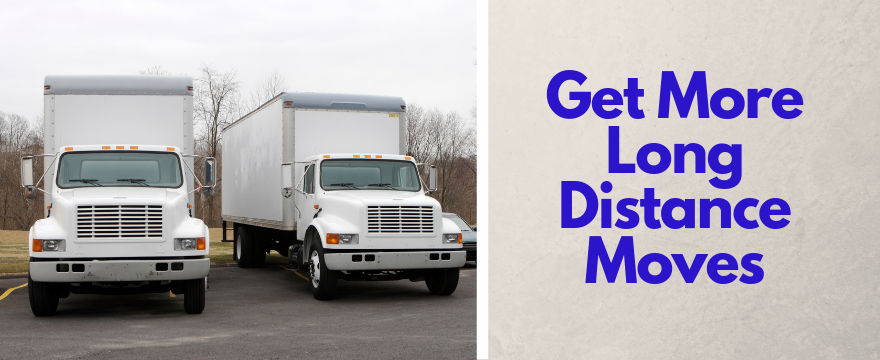 As a moving company, you are constantly searching for new leads, especially high quality leads that bring a lot of revenue. Since leads are the oxygen on which your business runs, it makes sense to want to get large moves, long-distance moves, etc.
However, it can be tricky to figure out how to get those moves, especially in Google Ads. What are people searching? How can you find those people? And how can you avoid showing up on irrelevant searches and wasting a lot of money?
Fortunately, you can successfully get those lucrative long-distance moving leads with a few straight-forward strategies. Long-distance moves are highly lucrative. We have years of experience managing long-distance Google Ads campaigns, so we put together this guide for movers to get more long-distance moving leads.
Enjoy the following 7 Google Ads tips, and best of luck to you in your advertising endeavors!
Target the Right Keywords
The first key to getting long-distance leads is to target the right kinds of keywords. Here are several common ways of searching for long-distance movers:
long distance movers

long distance moving companies

state to state movers

state to state moving companies

nationwide movers

nationwide moving companies

interstate movers

interstate moving companies

movers to ____ (i.e. movers to texas, movers to florida, etc.)

movers ____ to ____ (i.e. movers california to illinois, movers tx to ny, etc.)




moving companies to ____ (i.e. movers to texas, movers to florida, etc.)

moving companies ____ to ____ (i.e. movers california to illinois, movers tx to ny, etc.)
These are the most commonly searches long distance keywords we see.  They're all worth targeting, just make sure you get your match types right!
Block the Right Negative Keywords
You also want to be careful to block the searches you aren't interested in showing up on. For instance, if you don't do international moves, be sure to add negative keywords like:
international

overseas

major world countries & cities (for non-international movers, we add the names of lots of countries and the top 100 major cities of the world as negatives)
You'll also want to block common bad keywords for movers, like "uhaul", "craigslist" and "boxes". That way, you'll never pay for a click or a call from a search like "where to rent a uhaul truck for my move".
Consider Blocking Competitors
Although some moving companies choose to target competitors, in our experience targeting competitors is a mistake.
Most people who search for a specific moving company have already decided to do business with that company, and many who click on your ad are assuming you are that company. As soon as they see that you aren't, they tend to bounce off. Although you may occasionally pick up a customer or two, you will more likely get higher bounce rates and a higher overall cost for your leads.
Our advice is to research all the names of your local competitors and add their names as negative keywords. So if Davis Movers, Jones Movers and Mars Dallas Movers are your competitors, you will want to block "davis", "jones" and "mars". To compile your list, you can search Google for "local movers" or "long-distance movers" and block all the competitors that come up.
Bidding
Keep in mind that because long-distance moves are so lucrative, you will have a good deal of ad competition to show up for those keywords. Thus, your long-distance bids will need to be higher than the bids for your average "local mover" keywords.
We usually see long distance cost per clicks ranging from $20 to $60 depending on how aggressive an advertiser wants to be and how much volume they want to generate.
Remarketing
To offset the price for your long-distance bids, we recommend running a remarketing campaign to complement your search campaign. The price for remarketing clicks is almost always much less than search campaign clicks.  We usually bid remarketing ads at $1 to $5 as the maximum cost per click.
Don't miss the opportunity to get cost-effective leads and leverage your advertising dollars. If you don't run a remarketing campaign, you are probably leaving money on the table, as sometimes remarketing campaigns can bring in great leads.  You can learn more about remarketing campaigns on this episode of the Paid Search Podcast.
Ad Extensions
Be sure to maximize the size of your ads by adding as many ad extensions as possible. Ad extensions, like sitelinks, phone number, callouts and structured snippets, add bulk to your ad, make it more visible, and draw eyes and clicks toward your ad.
Call Only Ads
Call only ads are a great strategy for long-distance movers. A call only ad only shows up on mobile, and instead of taking the customer to your website, the customer calls your business phone number directly from the ad. Long-distance moving customers tend to have lots of questions and are looking to talk to someone, so encouraging them to call immediately will boost your leads.
Similar Posts: