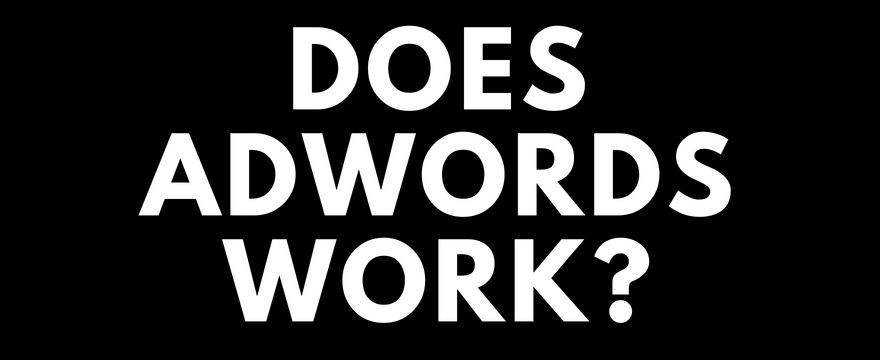 Facebook's stock is down somewhere around 20% to 25% over the last few days, and Twitter's stock is also down. Given this financial carnage, I thought it would be a good time to discuss one of the most common questions I get when I pitch AdWords (now Google Ads) to prospective clients.
I go through my pitch, highlighting all the benefits of AdWords… Get in front of people searching for exactly what you offer… Only pay when they click… and all the rest of that stuff.
After I give my pitch, one of the most common questions I get from potential clients is, "this all sounds great, but does Google AdWords really work?"
And the answer is, of course it does.
Usually I go through all the pieces of evidence that prove AdWords works… look at how many people use it, you're getting in front of people looking for exactly what they offer, you only pay when they click, we can control bid amounts and what searches you show up on, and all that stuff.
And all that's great. But sometimes raw numbers show things in a different, better, more dramatic way.
If you want to talk raw numbers, let's dig into something that happened to me last week. This example will show vividly how powerful Google AdWords advertising is.
I eat my own cooking.
At Rothman PPC we don't just tell our clients to use Google AdWords, we also use it for our company. We spend a small, but very real amount of money every month on AdWords campaigns to both grow the Rothman PPC brand and also to generate great leads that turn into clients.
The way I run my own budget is that I have a certain amount I want to spend each month. And I don't want to be limited by a small daily budget, so I run a large daily budget and then turn off the campaigns once I hit my spend goal each month.
This month, a few days after I had hit my spend goal and shut down my campaigns for the month, I got a little bit itchy and decided to run some more ads.
Boy am I glad I did.
Finding the perfect match for my service
I decided to turn on my national "AdWords agency" campaign. This is where I target keywords like "AdWords management agency" and try to get in front of potential clients looking for an AdWords team to help them with their campaigns.
Boy am I glad I did.
On that day I spent $63 and mostly advertised on pure broad keywords (broad keywords are great if you use them correctly).
The broad keyword google adwords management company received an $8 click and the search term was white label adwords and then there were a couple additional words for an industry at the end of the phrase I don't want to disclose because they were very specific.
This search user was looking for a white label AdWords solution for a specific industry, he clicked on my ad, went to my website, and filled out my lead form. And then we got on a call.
Turns out this search user and me are the perfect match. He needs a white label AdWords team, we offer that service, and we specialize in the exact industry he is running his agency for. So we are really a perfect fit for each other.
We are already white-labeling one week later on two accounts and it looks like that account list is going to grow and grow. All from a $65 spend day and an $8 broad keyword click.
Let's talk numbers
Here's where it gets interesting. Let's get into some numbers.
This agency is probably going to charge their clients 15% to 20% of monthly ad spend and we're going to charge the agency 10% of monthly ad spend to do all the white label work month to month.
This agency has already brought us two clients, and there is potential for this thing really to be a twenty-five account partnership.
If this agency brings us twenty-five accounts that spend an average of $3,000 a month on AdWords, that's $75,000 a month of ad spend, and our 10% cut is $7,500 a month.
Two accounts is a long way from twenty-five, but at the same time, two accounts is already $600 a month in revenue for us. And the upside of this partnership isn't limited to twenty-five accounts. It could be fifty, or one hundred one day.
All from an $8 broad keyword click.
I spent $65, current monthly revenue return is $600 a month, and this has the potential to grow to $7,500 a month.
Now of course, I've spent more on this campaign in the past, and the cost per lead for this kind of revenue potential is higher than $65. But this one-day example shows the geometric power of Google AdWords advertising done right.
And this is just an example from my industry. Great returns happen in all kinds of industries every day.
When companies who generate leads from AdWords account for all the lifetime value they can get from an AdWords campaign (brand awareness, immediate and trackable leads, un-trackable leads like if someone clicks on an ad and then leaves your website, and then Googles you later that day and goes to your Facebook page and calls you from there, repeat business, referrals, word of mouth, etc.) the returns on ad spend can be really great, and a small AdWords budget can accelerate your business growth and dynamically improve your results.
The truth is that when AdWords is done correctly, AdWords works, and it works way better than most people know.
Does AdWords work?
That question is usually answered with phrases like look at all the customer Google has… look how much money Google makes, it has to work… there's a reason Google is almost a trillion dollar company… etc.
But it's examples like the one I gave above that are behind those surface level answers about Google's success. The extreme success of Google is based on the extreme value their adverting platform provides to companies like mine and hundreds of thousands of others.
I've never seen anything as powerful or effective as Google AdWords when it comes to lead generation and marketing and trying to get in front of the right people who can turn into valuable customers.
Google AdWords works, there's no doubt about it.
Similar Posts: