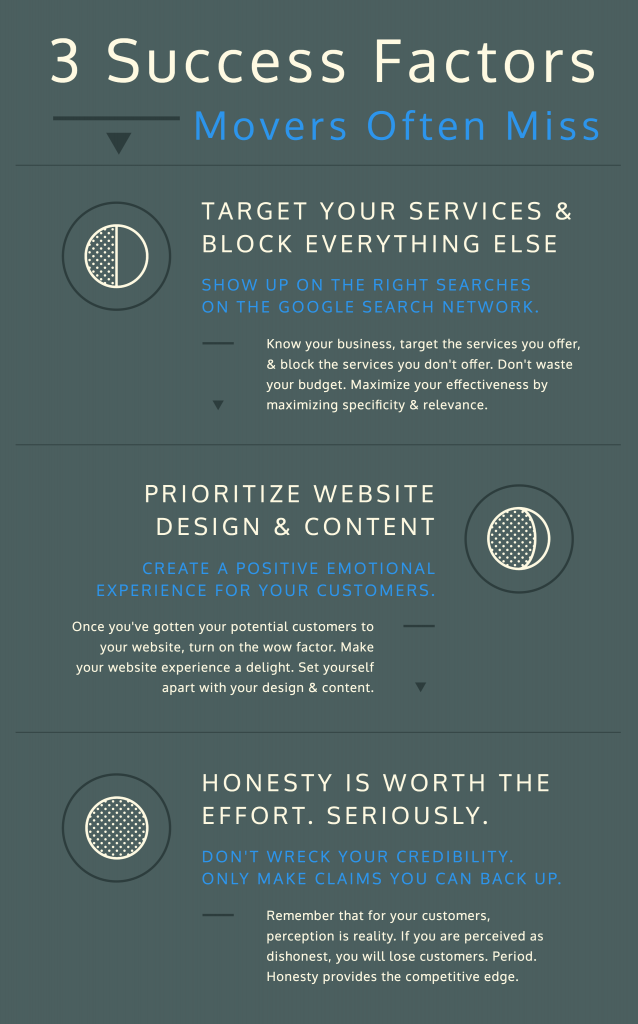 As an AdWords specialist, I manage dozens of moving company campaigns across the country and around the world on a weekly basis. And when you manage literally dozens of moving campaigns, you begin to notice common themes. There are common characteristics among movers who succeed, and likewise similar characteristics among those who just don't thrive.
So, I boiled down the top 3 uncommonly known dos and don'ts I have noticed many movers miss.
Here are the top three secrets to success I have found:
1. Target what you offer, block what you don't
Fundamentally, this means knowing your company. What services do you offer, and more importantly, what services DON'T you offer?
It is vitally important to know the scope of the operation you're running. Do you perform any of the following?
Hot tub moving

Gun safe moving

Pool table moving

Piano moving

Business moves

Long distance moves

Apartment moves

Small moves

Residential moves
What I see most often are movers who don't understand their own identity. Their listed services on their website are vague and nondescript. They don't specify whether or not they move apartments, pianos, etc. And they haven't built ad groups specifically targeting these specific searches.
Remember this: specificity = relevance = higher likelihood of getting conversions. The more specific your landing pages, your ad groups, and your ads are, the more potential your customers have to see your company as capable of meeting their needs.
The smart moving company targets each of the categories of moves they perform with separate ad groups – one ad group for piano search terms, one for hot tubs, etc. They will also have a separate landing page on their website for each of these categories. This shows me, the consumer, that you actually understand exactly what I need. You care about me.
Not only that, but they will make absolutely sure they haven't blocked any of their services as a negative keyword. Believe it or not, I saw a moving company who had unintentionally added "long distance" as a negative keyword in their AdWords account, meaning that they blocked themselves from EVER showing up on these lucrative Google searches!
So, what's the best way forward? First, list out all the types of moves your company has the ability, interest, desire and licensure to perform. Then, target those moves, both in your AdWords account and on your website.
For instance, if you specialize in moving pianos, don't be shy. Tell me! Create specialized ads and ad groups customized towards pianos. I'm a random stranger. I have no idea if you move pianos. If you don't have piano-specific ads and landing pages on your website, I am much more likely to give my business to your competitor who does.
But, if you don't move pianos, then don't flush loads of cash down the drain on piano moving searches. Add "piano" as a negative keyword. Then you will never show up on any piano searches. Never waste your precious advertising dollars on irrelevant keywords.
The bottom line is, know your business. Don't spend money on traffic you don't want. And don't block traffic you do want. Take the time to specifically target the customers you want reach.
2. Prioritize Your Website Design & Content
My boss likes to joke with me that my side job is "moving company website critic." I have seen websites from coast to coast, from the most beautiful, polished sites to the least – so I've learned a lot about what makes a great moving company website.
These days, people use Google as their yellow pages. And the nicer the website, generally the more credibility in people's minds. If your website looks polished, professional, pretty and modern, your consumers are more likely to think of you as trustworthy and credible than if your website looks like something from the late 90's.

This is an unfortunate truth. It's not really fair, either. If you and your competitor offer exactly the same service, why should he get more customers just because he has more money to hire a snazzy graphic designer?
Unfortunately, people aren't logical – human beings make decisions based on emotions. And if someone sees your website and the emotional reaction is "ugh", you will lose that prospect as quick as they can hit the "back" button.

Other design elements are small things you wouldn't think of, like font size.
If I have to squint to try to read your information, your customer will have a distinct emotional reaction: frustration.
Make your information easily readable. If the emotional reaction in interacting with your site is, "wow, this is pleasant and easy," then you will get a lot more customers.
But on the other hand, I have also seen websites that look sleek and pretty, but have no information. That's also frustrating. As a customer, I want to know why I should spend my hard-earned money on you instead of the next guy. I'm a random stranger on the internet who doesn't owe you anything. Show me why you are absolutely outstanding.
Don't just tell me that you do local moves. Who cares? Anyone can do a local move. What makes you unique?
Do you offer flat-rate prices?

Do you guarantee no hidden fees?

Do you offer a money-back guarantee?

Do you offer a 14% discount on Tuesdays?

Do you support veterans with your hiring practices?

Are you a family-owned operation?

Did your business start with your whole family volunteering to help tornado victims, and it grew from there?

What are your values?
Tell me your story. Help me understand why I should support you. This is called your "selling proposition" – it's the thing that sets you apart from the crowd.
Remember, you have to prove to absolute strangers that they should give you their money. Prove that you are worthy of my business and that you're ACTUALLY BETTER than the next company listed on Google. Show me why you aren't just average. You might be the best moving company there ever was, but if I, the consumer, can't tell, it won't help you.
This brings me to photos. Stock photos are cheap, and your customers can tell. People like to see photos of YOUR business. If you're family owned, show a picture of the whole family and your dog wearing matching t-shirts. Show pictures of your ripped, smiling movers in front of your branded trucks. In a world of depersonalized mass marketing, a personal touch goes a long way. Customers can tell the difference.
3. Be Honest. Seriously.
Nothing – literally nothing – turns me off more than seeing XYZ Movers advertise themselves as "BBB A+ Certified", then searching "XYZ Movers" on the Better Business Bureau, and getting "No Results Found". It literally turns my stomach. It's disgusting.
Unfortunately, this is not a rare occurrence. You might be surprised how many moving companies I have seen that make false claims about their BBB status.
As a customer, if I find out that your BBB certification is bogus, you have instantly lost my business. Your credibility is smashed. But it gets worse.
If my friend who is looking for a mover asks me, "Hey, do you know any good movers?" my response will be, "Stay away from those XYZ Mover guys. They claim to be BBB certified on their website, but it turned out it's bogus. You can't trust them. I ended up using ABC movers [your competitors], and they were completely honest and aboveboard with their business practices. I couldn't recommend them more highly."
I might even go to your Facebook page and write a scathing review. Not only have you lost my business, but I feel cheated and angry, and I will make sure I warn others.
Some of our clients tell us that they used to have a BBB listing, but it wasn't doing anything for them, so they took down the listing but forgot to remove the BBB sticker on their site. Although this is understandable, your potential customers don't know that. All they know is that when they clicked on your BBB sticker, it didn't link to the BBB website. And when they took the extra time to search for you on the BBB website, you were nowhere to be found.
When it comes to customers, perception is reality. For all they know, you copied and pasted the BBB logo from stock photos. To them, you're just another liar. It doesn't matter if you are actually honest. If you are perceived as dishonest, you will lose customers. Period.
Either make no claims about BBB accreditation, or make sure that your BBB sticker links to your profile on the BBB website, and that your profile is active and strong. In an age of scammers and liars, honesty will make you stand out above the crowd and give you a huge competitive edge.
Being honest isn't just the right thing to do. It also pays. What kind of reputation do you want to build? If you build a reputation for honesty, you will be trusted and rewarded.
Takeaways
When it comes to AdWords, target the services you offer and block the services you don't. Spend your advertising budget as wisely as possible, and then make those clicks count.
Be honest and clear about your certifications, and take the time to invest in your website. You don't want to lose visitors as soon as they see your website.
Be trusted and be trustworthy.
By implementing these secrets, you can transform your business's online presence and skyrocket your ROI.
Similar Posts: