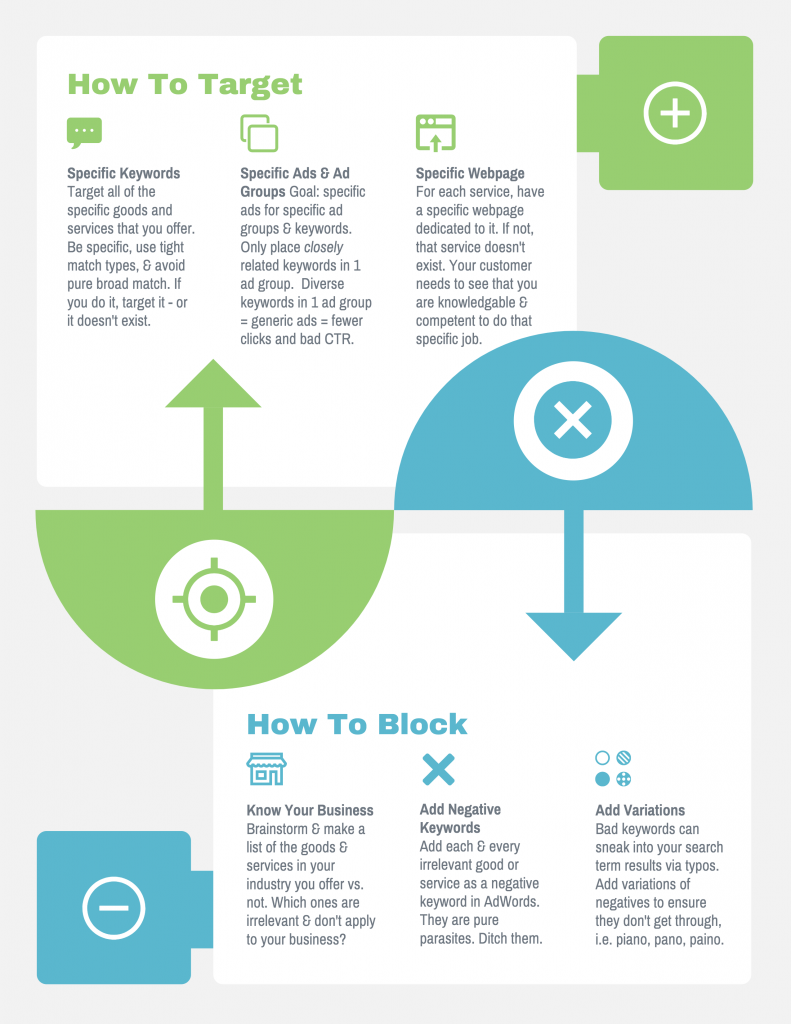 Our approach to keywords here at Rothman PPC has created some incredible results for our clients. This strategy is one of our big secrets to success with AdWords. So we decided it deserves an article all to itself!
Using this strategy will help you generate tons of new leads and skyrocket your ROI without a single extra dollar of budget spent.
Background
Let's get inside the head of someone searching for your product or service. As the consumer, I encounter a very specific problem or need that I need outside experts to resolve. Neither my mom, my husband nor my dog have the solutions I need, so I turn to Google. I need to find a specific solution for my specific problem. So I am automatically tuned to filter out any results that don't meet my EXACT need.
For example, suppose my deceased grandmother bequeaths her fine grand piano to me, but I live in a high-rise apartment in New York City. I can't get that piano into my apartment with just the help of my mom, my husband or my dog. I need outside expertise to solve my specific problem. So I enter "grand piano movers nyc" into Google.
Advertising Strategy
This is where many moving companies make two key blunders. I have seen these mistakes committed dozens of times by companies across the country.
Mistake #1 – Running a general ad for a specific need.
Many advertisers will add 20, 30 or more keywords to one ad group – everything from "local movers" and "moving boxes" to "piano moving" and "commercial movers nearby", all in one ad group.
Listen. This is the worst thing you can do.
Placing dozens of keywords in one ad group is the equivalent to shooting yourself in the foot. You could show up in the #1 position on every Google search and this mistake would still sabotage your CTR.
Why?
The nature of an ad group is that all the keywords in a single ad group will all trigger the same ads. So in order to apply to all those keywords, your ad group's ads must inherently be general, generic ads.
Remember me and my situation? I need someone who can specifically get a grand piano into a high rise apartment. Not just some generic movers who do local moves near me. Suppose your generic ad shows up #1 in the Google search results, and your competitor's specific ad shows up #2.
You: "XYZ Movers Near You – Family Owned & Operated"
Him: "Grand Piano Movers NYC – #1 NYC Piano Professionals"
Guess whose ad I will probably click on? Guess who will probably get my business? Exactly – the one who seems most likely to solve my specific situation!
How do we solve this mistake? The key to getting the clicks you want lies in making your ad as specific and relevant as possible.
So, instead of a general ad for a specific need, we need to create a specific ad for a specific need.
What does this mean? To create a specific ad for a specific keyword, you must also create a specific ad group for that keyword. This means grouping only closely related keywords into a single ad group – or if you want to go hard core, do just one keyword per ad group. Create a single ad group dedicated solely to piano moving and nothing else. Dedicate another ad group to NYC moves, another to movers near me, and another to commercial moves.
Does creating more and more finely granulated ad groups take time? Yep. Is it worth it? Absolutely!
Mistake #2 – Having only a general webpage for a specific need.

This is the second blunder I see companies make. Even if they have a specific ad for a specific need, they have vague, general website pages that don't apply specifically to my need. If your website doesn't specifically address my concerns, how do I know if you are actually able to meet my need?
I have seen so many moving websites that only mention local and long distance moving on their websites. These companies may very well do other kinds of moves, but if you don't tell your consumers, they won't know. Why would I spend time picking up the phone to call a company I don't even know if they can help me?
Here's how to fix it: Have a specific page on your website for each service you offer, and direct your specific ads to those specific pages. If I am searching for piano movers and you send me to your generic home page, I don't want to have to hunt through your whole website to figure out if you do piano moves. Take me to your piano moving page directly!
The Key
The key principle underlying this entire discussion is what we at Rothman PPC have dubbed "Target It or Block It." This is the key to having a tight, solid and precise advertising campaign that runs like a well-oiled machine.
Do you offer a certain product or service? Say so. Shout it from the rooftops. Precisely target that product or service on every level of your company: your website, your ad groups, your keywords, and your ads. Show that your company is equipped and capable to meet that very specific need.
But what about when your company doesn't offer a certain service and doesn't want to show up for that service? What then?
Here is when blocking comes in. Obviously you won't have a webpage for a service you don't offer, say piano moving or long distance moving. But you also don't want to show up on Google searches that contain the keywords your company does not apply to. If you don't offer packing services, don't throw away your budget on searches like "moving and packing near me".
Did you know that you can completely block certain search terms from ever triggering your ads? This is where negative keywords come in. If your company doesn't do piano moves, for instance, you can add the word "piano" as a negative keyword to your campaigns. Then you will never again show up on a search with the word "piano" in it, and you won't waste precious dollars on clicks from searches you don't care about. We have seen companies who wasted thousands of dollars on AdWords before finding us, because they didn't know how to block these irrelevant search terms.
Bonus tip: add spelling variations as negatives as well. As an AdWords account manager, I will say that the search term "Craigslist" is the bane of my existence. Why? This is a search term we never want to show up on, and there seem to be dozens of ways to misspell such a simple term that like to slip past us into the search results. So we have had to become creative in blocking all the possible misspellings of this search term, i.e.
Craigslist
Craigs
Crags
Craig
Crais
Caigs
Cairgs
Ctaigs
Crqigs
At the end of the day, the Target It or Block It strategy means taking any good or service your industry offers and either targeting it on the website, ad group, ad and keyword level, or blocking it by adding it as a negative keyword to your AdWords campaign. Implementing Target It or Block It as your new keyword strategy will revolutionize the effectiveness of your AdWords campaign, all without raising your budget by a single extra dollar.
Similar Posts: