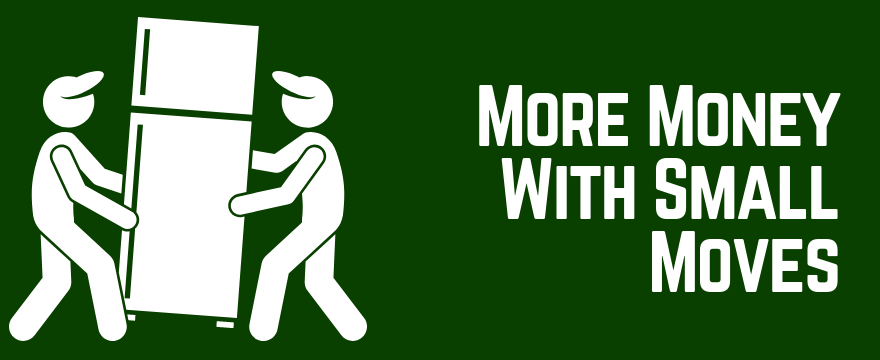 If you're a typical moving company, you are thrilled to receive big moving jobs. Your business thrives on long distance movers, large homes, big offices, etc. With these types of moves, you gain more revenue and more profit.
And to get those leads in Google Ads, you target higher incomes, exclude demographics like the ages of 18-24, and add negative keywords like small, furniture, in home, appliance, tiny, refrigerator, etc.
And that's great… we all want big moves. Fine. But.
Moving companies that ONLY focus on large moves are missing out on a huge amount of potential income.
This may come as a surprise. But hear us out.
Obviously, big moving jobs are valuable. But all your competitors know that too. So they end up bidding up the price to advertise on high-value keywords like "long distance moving companies". Those high-value keywords work, and we run great campaigns on them, but why not also go after the low-hanging fruit, the small moving jobs that are less competitive?
The small moves can also be very profitable for your company, if done right.
By advertising for small moves, i.e. single item moves, appliance moves, etc., you can fly under the radar and advertise on lower-competition keywords for cheaper bids and still turn a profit.
What kinds of keywords are we talking about? Here's a sampling of keywords for small moves:
small move movers

one item movers

furniture movers

appliance movers

in home room to room movers

refrigerator movers
To get more of these types of keywords, you can search Google for "labor only movers", "moving help labor" etc. and look at similar suggested searches.
Once you have your keywords, be sure to create ad group(s) for each type of small move you want to advertise for (i.e. furniture, appliance, sofa, etc.) with ads to match the keywords and search topics you are using.
At the end of the day, you should advertise for small moves if it's profitable for your company to get them. With less competition and cheaper bids, you may just become the king of that niche.
Similar Posts: