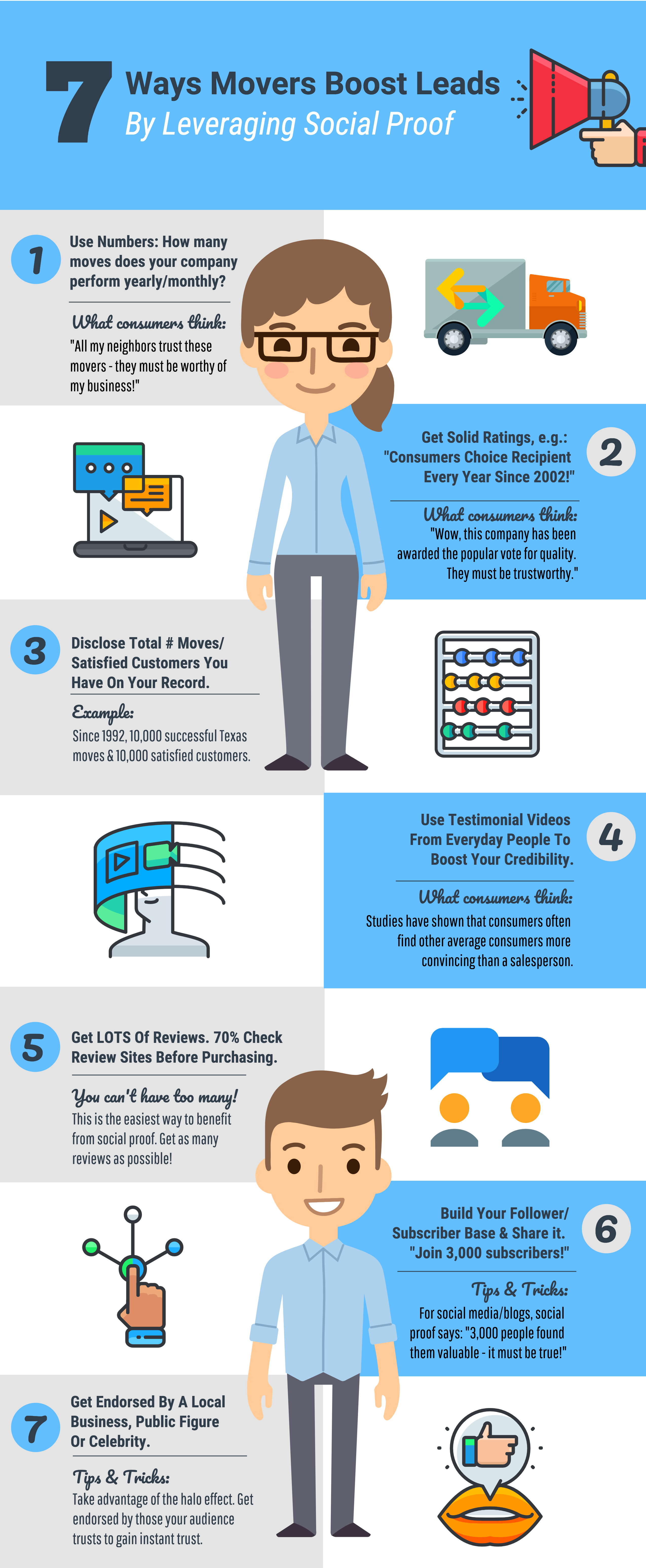 Have you ever held off on going to see the new big-budget Hollywood production until you read reviews and heard if your friends thought it was any good? Social proof is a persuasion technique where a person looks to perceived societal norms to determine whether or not a certain choice is the right one. You can use this psychological secret to get more moving leads. Here's how.
1. Number of Moves Performed
Tell your customers how many people have used your service per month/year. People love numbers – numbers are solid and compelling. So share them.

Example: We move over 3,000 Texans every year.
Clearly, all my neighbors trust this company – this company must deserve my business!
2. Get solid ratings and share them.
Examples: "Rated #1 local mover every year since 1998!" or "Consumer's Choice recipient every year for a decade."
There is a local business in my area that I have noticed makes great use of social proof. On the outside of their store front, they have prominently displayed: "Mitchell's Jewelry – Where Oklahomans Get Engaged!" As a consumer, my thought is, "Oh wow, that must be THE definitive place to get an engagement ring."
So, build a good reputation so you can honestly claim, "XYZ Movers – Oklahoma's Choice Movers".
3. Tell your customers how many moves you have sold, total.
McDonalds is a classic example of this persuasion principle. Many McDonalds now say, "McDonalds: Billions and Billions served."
Goodness, if BILLIONS of people have eaten at McDonalds, it must be good, right?
You can utilize this idea in your own ad copy, i.e. "Moving Families In NYC For 20 Years – 10,000 Satisfied Customers."

4. Testimonial Videos On Your Website
Studies have shown that consumers find testimonials from average, everyday people like them much more compelling than self-promotion or merely outlining the benefits you offer them. Thus, leverage the power of the testimonial.
Shoot testimonial videos of your satisfied customers and feature them prominently on your website and social media pages. When your potential customers see how much people just like them have loved your moving services, they are much more likely to find your company credible.

5. Number of Reviews

In this same vein, proactively garner as many reviews as you can.  Reviews and testimonials are the easiest way to benefit from social proof.
Once you have a solid base of great reviews, you can use them in your ad copy and your website. For example: "Check Out Our 200 5-Star Reviews."
Clearly, this company is well-rated and reputable. I should use them for my move.

6. Number of Subscribers/Followers
If you have a newsletter or blog, you can share how many other people have found your content valuable. "Join 31,900 other subscribers!" If that many people find your content valuable, surely it must be beneficial, right?
Likewise, if you have a strong social media presence, link your website to your social media page. When your prospects see that "1,282 people have liked XYZ Movers", especially with pictures of those followers' actual faces, your perceived credibility gets a huge boost.

7. Get an endorsement from a local celebrity, public figure, or business.
When your audience sees that someone they know and trust endorses you, there is instant trust.  They will associate your business that that brand, person, or business that they already know and trust, and they'll think more of your company and be more trusting than they would have otherwise.
Don't miss out on this kind of social capital.
Note: Be careful when it comes to endorsements from potentially controversial figures. Local celebrities can be a boon to your business when they are popular, but if they get caught up in a scandal you will want to dissociate yourself from them.
And that's it! If you implement social proof into your ad copy, social media pages and your website, you will get more moving leads and book more jobs.

Similar Posts: