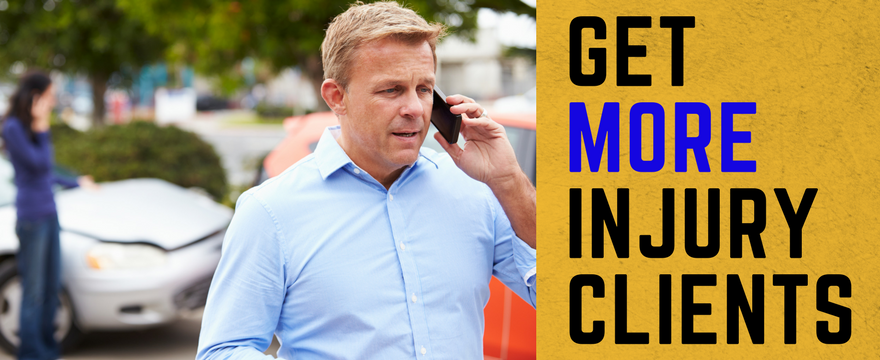 Running a large personal injury law firm is not easy.  People on the outside see movies like Erin Brockovich and A Civil Action and the see the glamour of the law firm going through the struggle, but in the end always winning the nine-figure verdict.  And don't get me wrong, there is a lot of swagger and glory in what you guys do.  And the times when you do take down the huge settlements are glorious times.  But day to day, you guys are in the trenches slugging it out, and it's hard.  You're managing employees, clients, cases, marketing budgets, overhead, negotiations, and on and on.  It's a tough business that you're in.
And you're not just lawyers.  In fact, you're not even primarily lawyers in my mind.  To me, the best and biggest personal injury lawyers are primarily businessmen first, making a profit every year from a large personal injury law firm business.  And the business is very simple.  You've got your expenses.  You spend money on overhead, a team of lawyers, and marketing to bring in clients and cases.  And from those clients and cases, you earn your revenue, which is your settlement contingency fees.  And at the end of every month you hope that the fees you brought in were higher than your expenses, and you earn a profit.
Every year on an injury lawyer's birthday, he closes his eyes, and as he's blowing out the candles he wishes for more personal injury clients.
As mentioned above, running a PI law firm is difficult and stressful.  Every month you're up against it, trying to bring in enough fee revenue to cover your overhead and make a profit.  And the number one thing that can grease the wheels and make things run smoother is having more clients coming in month after month.  Having a never-ending stream of new injury clients will solve almost every problem a PI law firm has.  Clients are essential to making a personal injury business work, and if you can bring in the clients and the revenue, then everything else is a solvable problem.
And I know the secret to bringing in personal injury clients.  It's called Google Ads (formerly called Google AdWords).  Google Ads is the number one source of personal injury clients.
A strong Google AdWords campaign can take you to the pinnacle of the personal injury business in your market.  I've seen it happen to some of my personal injury clients.  They started out anywhere from the 5th to 25th biggest injury lawyer in their state, and after a couple of years running incredible Google AdWords campaigns with us, they've increased their market share and become the biggest injury lawyer in their state.
Picture injury lawyer client generation heaven.  What does it look like?  What does it sound like?  I'll tell you what it looks like and sounds like.  Every day you put money into the Google Ads campaign, and in return, your phones ring off the hook and your inboxes fill up with new form completions from the websites and landing pages.  All day long, 24 hours a day, the phones in your intake department are ringing.  Your intake staff high fives all day long after signing up great cases.  And month after month you get hundreds of new accident clients, your fee revenue dwarfs your expenses, and the profits roll in.  That is what Google Ads can do for your personal injury law firm.
It takes years of experience to get a Google Ads campaign to produce those kinds of results for a personal injury law firm, but those kinds of results are possible.  I see them every day with my injury law firm clients, and here are some tips on how we do it.
10 Tips For Getting More Personal Injury Clients From Google Ads
1. Invest in Google Ads. This will be your number one lead source.
There's no place like home, said Dorothy.  And there's no case generation platform like Google Ads, said very smart injury lawyers.
It's true, Google Ads is the number one case generation opportunity for injury lawyers right now.  It's better than TV, it's better than social media, it's better than everything.  Search engine marketing, Google Ads, that's where its at.
I see it first-hand every single day.  Every day my lawyers are getting great cases from Google Ads.  And we're tracking the exact cost per case, and it's very profitable.  When done right, Google Ads can bring in millions of dollars of profits for personal injury law firms.
But the key is doing it right.  And doing it right takes a little bit of time.  You've got to get some quality score history going for a few weeks to really get things rolling, you've got to find the right keywords to target, you've got to get the right negatives in there to keep your search terms pristine, you've got to get your intake staff trained up.  All this stuff takes time, energy, and money.
But it's worth it.  Once an injury law firm gets its Google Ads campaign rolling and its intake rolling, things take off.  New cases come in every day.  Hundreds of cases a month in major metros is possible.  Last month I got one of my injury lawyers over 400 new cases.
Google Ads is the perfect platform for injury lawyers, and my first piece of advice is to invest in your Google Ads case generation process and to commit to sticking with it.
2. Determine your desired cost per case and then max it out.
This is the essence of injury lawyer client generation from Google Ads.  Figure out what your desired cost per case is, track the results, and once you're hitting your desired cost per case, max that sucker out.
Any good injury lawyer Google Ads campaign should be tracking the cost per case, not just the cost per lead.  You should be tracking every user that comes in via phone call, from the initial ring to the new client signing on the dotted line.  And you should be tracking all lead form submissions, from the initial email notification to the new client signing on the dotted line.
There are many technologies out there that integrate with Google Ads to enable this level of detailed case generation tracking.  And when you know the true cost per case, you can get the best performance out of your Google Ads campaign.
Once you know your true cost per case, the Google Ads manager can then get your cost per case to a profitable level, and then from there the goal should be to spend as much money as possible on Google Ads while your cost per case is profitable.
Pay close attention to the search impression share.  This metric tells you the market share percentage that you are getting, in terms of your ads showing up.  It answers the question, for my keywords, in my locations, for the times my ads run, what percent of impressions am I showing up on?  And if your impression share is less than 100%, it's either due to losing impression share due to ad rank or losing impression share due to budget restraints.
Search impression share lost due to ad rank goes beyond on the scope of this article, so we'll save that for another day.  But search impression share lost due to budget is easy to understand.
Search impression share lost due to budget tells you what percent of impressions you are missing out on (for your keywords, in your locations, for the times your ads run) simply due to budget.  If you want to lose less impression share due to budget, simply raise the budget.
If your cost per case generated from Google Ads is profitable, then your desired search impression share lost due to budget should be 0%.  You should be maxing out as much ad spend as possible on Google Ads, assuming your cost per case is profitable.
I've seen too many lawyers hold back with a profitable cost per case and not utilize Google Ads to its fullest extent and make the most money possible from it.  Don't be one of those lawyers.
Once you have a profitable cost per case, spend the most budget possible on Google Ads and aim for a 0% search impression share lost due to budget.
3. Go after 6 and 7 figure cases.
Advertising on Google can be expensive.  Part of what makes it all profitable for injury lawyers is getting the six and seven figure cases mixed in with the majority of cases that end up in 4 and 5 figure settlements.
And what are the six and seven figure cases?  Many of them are car wrecks, and of course you always want to advertise on those keywords.  But truck accident and motorcycle accidents have a higher percentage of huge settlement cases, and you want to be as aggressive as possible on those huge-settlement-generating case types.
Does it really matter if the cost of generating a truck accident case ends up being $50,000 if that case ends up bringing in over a million dollars of fee revenue to your firm?  Of course not.  So with truck and motorcycle accident cases, I don't get too granular with my bidding strategies, I basically go for broke, go for position 1.0, and try and get as many of these potentially-huge-case clicks as possible.

And for these truck and motorcycle ad groups, you want to make sure the ad copy is as relevant to the search as possible, and you want to make sure the landing page or website is as relevant to the keyword as possible.  If someone searches "truck accident lawyers in St. Louis," the conversion rate is going to be much higher if the landing page is all about your truck accident legal services and settlement history than if you just take the search user to a general injury lawyer home page that doesn't specifically focus on truck accidents.
Go all out for the big settlement producing case types like motorcycle and truck accidents.  Getting one or two large settlements every year can drastically change the average cost per case.
4. Your intake matters.
Your intake staff matters. They are an integral part of the case generation operation.  I can run the best Google Ads campaign of all time for you, and if your intake staff isn't good at their job, then the results can still be horrible.  It's a two-part system, Google Ads performance and intake staff performance, and both operations have to perform at a high level to make case generation from Google Ads work.
You can never forget this.  Google Ads can be performing at a high level, but if the intake staff sucks, the campaigns are not going to be profitable.  All the Google Ads can do is get people in the front door.  As Google Ads managers, we get people calling into your law firm and filling out lead forms on your website, but then it's up to your intake staff to convert these hot leads into signed up clients.
Intake training, monitoring, and improvement should be a never-ending process.  And the intake staff's performance dramatically affects the performance of the Google Ads campaigns.
5. Focus on your search terms.
Keywords are what you target, search terms are what you get.  Search terms are what people actually typed into Google when they saw and clicked on your ad.  We get this data inside the Google Ads account, and it's very important that your search terms are quality searches that can actually produce new clients.
You can target a great keyword like "injury lawyers" phrase match, and end up getting a click from a search that is never going to produce a client, like "how much money do injury lawyers make?"  You've got to continually review your search terms report for bad searches that are not going to produce clients, and then add negative keywords to block those bad searches.  And if the negative keywords don't stop the flow of bad search terms, then you've got to pause or change the match type on the problem keywords that are bringing in those bad search terms.
The true core of a Google Ads account is the search terms report.  That's where fortunes are made or lost.  If you don't show up on quality searches that can actually produce clients, then you're not going to get a lot of clients from Google Ads and your cost per case is going to be too high to be profitable.  But if you do get your search terms right, if they're +95% pristine week after week, then you are going to get tons of clients from Google Ads and the campaign is going to be profitable.
6. Negative keywords are crucial.
My injury lawyer campaigns have hundreds, sometimes thousands of negative keywords.  Negative keywords block your ads from showing up when they'd otherwise be eligible to show, and they're absolutely crucial to keeping the cost per case down.
For example, you might target the keyword "car accident lawyers in Houston" phrase match, but you would never want to show up on a search like car accident lawyers in Houston for property damage.  That's a garbage search.  That person very likely doesn't have an injury case if they're searching about property damage, and you don't want to pay hundreds of dollars for their click.
If you're targeting "car accident lawyers in Houston," then you would show up on that search and be at-risk of paying for a click from it.  However, if you have the negative keyword property damage, then that negative keyword would block your ads from showing up on that search, and you won't be at-risk of wasting a few hundred dollars from that click.
Avoiding these related but not relevant searches, at scale, with hundreds and thousands of negative keywords, will help you avoid thousands and thousands of dollars in wasted spend, and it will help you keep your cost per case down to a profitable level.
7. Get out of state leads.
There's an advanced location setting in a Google Ads account that dictates whether your ads show up to people only in your target location, or if your ads show up to people in or searching about your target location.

You may ask why a Los Angeles injury lawyer would want his ads to show up when someone in Dallas is searching for a personal injury lawyer.  The scenario would look like something like this.
Say a young adult has moved out to Los Angeles for a job and her family is back home in Dallas.  She gets in a catastrophic car wreck, she's in the hospital, and word gets back to her parents in Dallas that their daughter is in the hospital after being in an ugly car wreck.  Those Dallas-based parents will then begin searching for a Los Angeles-based injury lawyer, and they'll be doing searches like car accident lawyers in Los Angeles and injury attorneys in LA.
And if you're an Los Angeles injury lawyer, you want your ads to show up on these searches coming in from Dallas.  And if you have your advanced location setting set up to be people in or searching about your target location then you'll have a chance to be seen, get that click, and sign up the case, while a lot of other Los Angeles injury attorneys miss out on the opportunity because they have the more restrictive location setting turned on.
8. Advertise On YouTube
I recommend advertising on YouTube, which is done through the Google Ads platform.  Many injury lawyers have TV commercials already in existence, and I recommend advertising those commercials on YouTube.  YouTube is similar to television advertising, except that you have more control.  You can control how much you bid, the age and gender of who sees your ads, and many other factors about the audience who sees your ads.  If you're advertising on TV, you should definitely be advertising on YouTube.  It's a great compliment to a search campaign, and it can really help you build up your brand.
9. Target all languages.
In Google Ads, the language setting is tied to a search user's Google account settings.  So if their Google account is set to Spanish because they're a Spanish-speaking household, but they know English and search in English for "car accident lawyer," then there's a chance your ad might not show up if you're only targeting English accounts.  So I recommend targeting all languages because your ad will only show up if someone searches your keyword, in English.  So if someone's English is good enough to Google "car accident lawyer," then you want that call.  Targeting all languages allows you to show up on Google for more users and that will result in more cases and a lower cost per case each month.
10. Use Spanish keywords.
Hispanics make up 30% or more of the population in many of the largest markets in the US.  Many hispanic people speak English and search Google in English, but some don't.  And when you're dealing with large populations, "some" can add up to a lot of people.
So if you're intake staff has the ability to handle Spanish-speaking callers, I recommend that you run a Spanish campaign with keywords like abogados de accidentes and so on.  You should have Spanish ads that show up on those Spanish keyword searches, and also make sure that all your ad extensions, like sitelinks and callouts, are in Spanish as well.
Generally the Spanish keywords for the accident lawyer industry are going to be less competitive than the English keywords.  And the clickthrough rates are going to be higher because you'll be competing with fewer advertisers, and the Spanish ad copy will really stand out to the Spanish speaking search user who is probably used to searching in Spanish but seeing English ads.
In one of our major markets, the Spanish campaign's cost per click is 12% cheaper than the English campaign, and the Spanish campaign's clickthrough rate (CTR) is 244% higher than the English campaign's CTR.  You definitely don't want to miss out on advertising on Spanish accident lawyer keywords if your intake staff can handle the Spanish calls.  You'll get more cases each month and a lower cost per case.
Get in touch.
I'm running successful, profitable Google Ads campaigns for injury lawyers across the country.  My clients routinely get 50 to 400 cases a month depending on their market sizes and budgets.  One of my clients got 400 new cases last month!  Picture the phones ringing all day long and signing up 18 new clients a day.  It's incredible.  And it's all thanks to Google Ads.
My Google Ads program is transparent, you'll know exactly how many cases you're getting and what your cost per case is, I offer market exclusivity, and there's no contracts.  It's a month to month service as long as you're happy with the performance, and you're going to be happy.
I'm doing this for a number of firms across the county, and I can do it for you to.  Contact me today through the contact page, and tell me what city or state you want to advertise in.  Then I'll let you know if I have an opening in that market, and then we can schedule a call where I can show you a demo of my program.
Similar Posts: