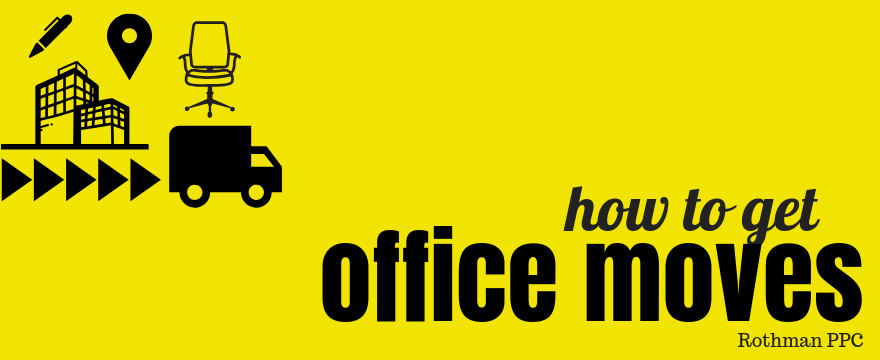 It's no secret that moving companies love office moving jobs.
Office moves are big jobs, and they sometimes include multiple days at the same site, which means higher revenue. Businesses also tend to look for quality movers over a cheap moving rate. So the revenue from these jobs can be fantastic. 
Since you want to get these kind of jobs, how do you get them with Google Ads? Fortunately, it's pretty straightforward. 
Getting Office Move Leads From Google Ads 
Let's first take a look at how people search for commercial office moves. Take generic keywords like "movers near me" or "local moving companies" and incorporate the modifiers "office", "corporate" and "commercial". 
For example:
Office movers near me
Local commercial movers
Corporate movers near me
Commercial moving companies dallas
Office movers in nyc
Etc…
Once you have your keywords compiled with the appropriate match types, put them into your office moving ad group, and create ads customized for office moving clients. Be sure to emphasize your abilities and experience in taking care of specific office needs — i.e. overnight moves so they don't have to miss a day of business, specializing in long distance moves, etc… Make sure your landing page is relevant to their office or commercial moving search.
Now that your keywords & ads are in place, it's time to set your bids. You're going to want to bid higher than your normal, average, everyday keywords for standard moves, i.e. "local movers near me" or "movers in chicago". The reason your bids need to be higher is because these keywords are so valuable, and there will be more competition to get clicks. If you want to show up high enough in the search results to get clicks, make sure your bids match.
Once your office ads are running, be sure to check weekly that your search terms are what you want them to be. Google Ads allows you to see the exact searches where your ads have shown up in the Search Terms Report (under the Keywords tab). We recommend checking that tab weekly to ensure that you are only showing up on high quality searches and blocking any search terms that you don't want to advertise on.
Pro tip: following the impression share metric in Google Ads can help you see what percent of the search market for this topic you're showing up on. If you're getting good leads for a good ROI, then you can increase your budget and get more of the same quality leads.
Don't forget Bing! Bing is very similar to Google Ads, so if you max out your impression share on your Google Ads campaign, you can go ahead and add in Bing too and get more of the same profitable office moving leads. 
Finally, be sure to track all conversions and treat your leads like gold. Jump on the phone calls and lead forms – don't let any of those phone calls go to voicemail, and be sure to respond to your leads ASAP. Otherwise, all your efforts to get those leads will be in vain.
At the end of the day, advertising for office moving leads should be pretty simple and straightforward – and highly lucrative. Don't miss this chance to get new leads and improve your business's ROI!
Similar Posts: