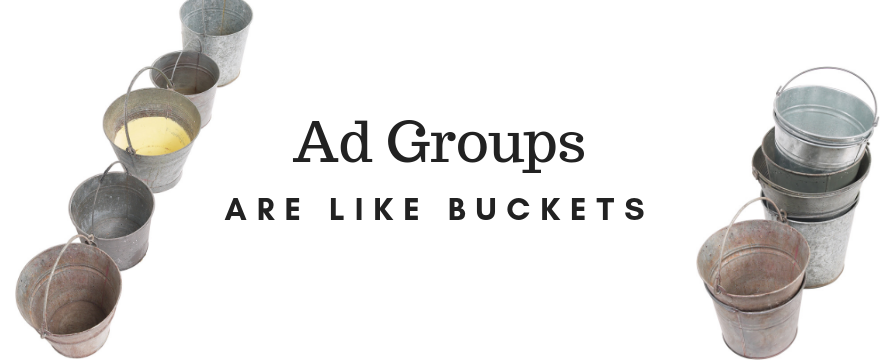 Chris and I had an interesting conversation on episode 140 of the Paid Search Podcast last week.  The discussion was about ad groups and keywords, and during the episode I shared my mindset on ad groups.
These days I think about ad groups as if they were nothing more than "buckets" for similarly themed keywords to be thrown into.  The only reason to have different ad groups is because you need different sets of ads for different keywords.
I'm never going to have two ad groups for the keywords "office movers near me" and "office moving companies."  The intent behind those two searches is the exact same, the search user on both keywords is looking for an office moving company to hire, so therefore the ads for those two keywords can and should be the exact same.
But if we then add a keyword like "long distance moving companies," now we're going to need a new ad group with a different ad because that search user has a different intent, they're looking for a long distance mover and not an office mover.
I like to keep the number of my ad groups, or as I think about them now, my keyword buckets, as a small as possible.  Why make it more complex than it has to be?  When building a new campaign, I work with as few ad groups as possible, and once I have my list of ad groups, I make the ads for each ad group, and then I fill them up with similarly themed keywords that I find.  Just as if I'm filling up buckets with water.
And then going forward, anytime I want to add a new keyword I find, I either throw it in the most relevant ad group bucket, or if nothing fits correctly, I make a new ad group.
Thinking of ad groups like they're buckets to be filled up with keywords has improved my Google Ads efficiency and performance.
Buckets, the right way to think about ad groups.
Similar Posts: