When I setup and manage AdWords campaigns for business owners, I run into a common and disturbing theme.  I'm finding more and more that many business owners don't have a clear idea of what's going on with their companies and what the game plan is.
When we setup a new AdWords campaign, the business owners need to tell us fundamental things about their companies, like what days ads should run, what time they can take calls, what they want their budget to be, and other fundamental business decisions.  But the disturbing thing is, many new AdWords advertisers can't tell me these things, as they don't have a firm grasp on their own business.  It is shocking and disturbing.
In order to make AdWords work, you have to be advertising a business that works. AdWords can make a healthy business stronger, but it can't save a sick business from itself.  What follows are things every business owner needs to know about their own business before they start advertising on AdWords.  Knowing these items in advance will help ensure that you're running your company correctly, and it will also help you win on AdWords.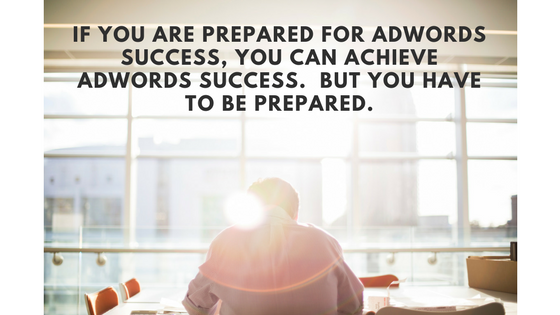 Know Who Your Customers Are
When we build a new campaign here at Rothman PPC, we do extensive keyword research and find the best keywords to target to get our clients the best quality traffic.  We will find all the keywords that exist out there, however, you as the business owner need to be able to point us in the right direction and tell us where to start.
You as the business owner need to be able to articulate who your customers are and what kinds of terms they'd be searching for in Google to find your business.
If you're a personal injury lawyer starting out on AdWords, you don't need to know that car accident attorneys near me is a spot-on keyword and car accident attorneys for no injury case should be a negative keyword, but you do at least need to know that people refer to your profession as car accident attorneys and be able to point me in this direction.
The point is that all business owners should understand how people search for their business-types on Google.  You should be able to put yourself in your customers' shoes and ask yourself "how would I search for the service I provide if I was a customer going to Google?"
In order to have success on AdWords, you at least need to know the common ways people search for your business-type.
Know When You Answer The Phones
For service companies out there, the most valuable way you can use Google AdWords is to help potential customers find you and call you.  Phone calls are the most valuable types of leads, and phone calls should be your main goal from a Google AdWords search campaign.
In order to get the most phone calls possible from AdWords, you need to know when you're able to take calls.  Many business owners I talk to, especially the moving companies, don't have crystal clear set times that they answer phone calls, and this is a shame.
Every business owner should know the exact days and times that their company is able to answer and service phone calls, and these exact days and times should make up the initial schedule you run your AdWords campaign on and try to spend your full budget on.
Location, Location, Location
As the business owner you need to know the exact locations where you want to run your AdWords campaigns.  You need to understand your market and be able to articulate where you do business and also where your best and worst customers are located.
Too many business owners are willy-nilly about their location targeting.  A moving company owner might instruct me to "target a 50 mile radius," only to call me a week later when he's getting calls but not closing jobs from towns on the edge of that radius because his prices are not competitive when he includes his travel fee.  Location issues like this need to be understood ahead of time.
As the business owner you should know where you're competitive, where your best customers are located, and also where your worst customers are located.  This knowledge needs to be brought to the table before you start your AdWords campaign.  Your initial AdWords campaign should target only areas where you're competitive, and you should also try and spend the most budget possible on your best customers first, before expanding to areas where you are still competitive but have worse customers.
Unique Selling Points
As your AdWords manager, I take unique and interesting things about your business and format that information into optimized AdWords ad copy.  However, the unique and interesting things about your business need to be articulated to me by you, the business owner.
You need to know what your unique selling points are, what your competitive advantages are, and what makes your company stand out from the herd as the best option for the customer.
Why does your company exist?  What makes your company great?  Why should the customer choose you?
These are day 1 business questions that you should be able to answer and understand intimately.
The things that make your company great… the things that make your company the best option for the customer, are the things that we need to put in the AdWords ad copy.
I'll come up with the exact ad copy and format it in an optimized way, but you the business owner needs to understand and be able to articulate to your AdWords manager what makes your company great and why customers choose you.
Budget
"What should my AdWords budget be?"
I get that question all the time from prospective AdWords advertisers, and it blows my mind every time.  Budget is not something to be decided by your AdWords manager.  Your AdWords manager can answer questions about search volume, cost per click, and click and conversion estimates for a prospective budget, but the AdWords manager should not be relied on to tell you what that overall AdWords budget needs to be.
The paid search marketing budget for your company is a business decision, not an AdWords decision.  As the business owner, you need to either understand yourself, or with the help of a CPA, things like cash flow, profitability, expenses, and budgets.
I recommend that all new AdWords advertisers bring a business-decisioned test budget to the table for their first few months of AdWords advertising, and then once they gather cost per click, cost per conversion, and impression share data over those first few months, they can use that AdWords data to make a new business-decisioned AdWords budget for the next quarter, and so on.
You need to understand cash flows, profitability, and budgets as a business owner, and you can use that business information to make an AdWords budget.  But just coming to your new AdWords manager and saying "what should my budget be" is not a good way to go about your business.
Do Business Well
Business and AdWords are puzzles that are fun to try and solve.  But they are puzzles and they are difficult.  Capitalism and competition ensure that running a business and advertising on AdWords will always be difficult and challenging, but they can both be done successfully.
The key is that you actually try and solve these puzzles.  You should never run your business haphazardly.  You have to think and prepare and make good decision.  You have to understand why you're in business and how you run your business. And you must have a solid grip on these business fundamentals before you start advertising on AdWords.
AdWords can make a good business stronger, but it can't save a bad business.  And if you can't answer the above items before you start advertising on AdWords, then you have a bad business and AdWords won't save you.
But if you do have your business fundamentals under control, if you do have a good business, then AdWords can light your sales process on fire and ignite extreme growth for your company.
If you are prepared for AdWords success, you can achieve AdWords success.  But you have to be prepared.
Similar Posts: