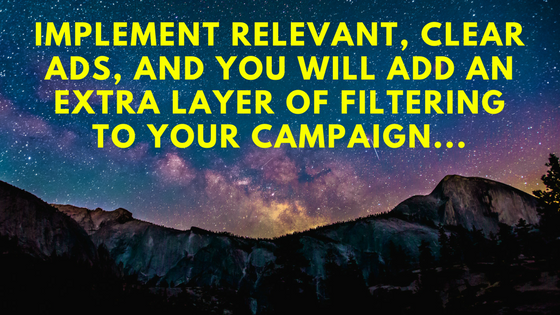 If you've been around AdWords for a while, you are probably familiar with the concept of adding negative keywords – the power you have to optimize your keyword targeting based on eliminating bad search terms from your search traffic. If you haven't learned about this powerful technique, read this! But, if you already have that technique under your belt – good news, there are more ways to filter your search traffic to maximize clarity. You want the sharpest clarity possible so that you maximize your chances of attracting the customers out there who need what you offer.
One good rule of thumb for writing general ad headline copy is to include the search term in the headline, because people are more likely to click on an ad that says EXACTLY what they searched. For instance, if someone searches "beautiful wedding florist", the average person is more likely to click on a headline that says "Beautiful Wedding Florist" than one that says "Buy Our Flowers Here".
Why? A headline that says exactly what I searched makes me feel like the advertiser already knows me. They truly understand me and my needs – they made it crystal clear! It's a match! Thus, the user is more likely to become a customer, and you gain business.
Where search term headlines will get you into trouble, however, is when the search term is unclear. An unclear headline will inevitably draw traffic you don't want. Whenever you write an ad for a particular search term, keep in mind ambiguity. Always be asking yourself two questions:
Could this term ambiguous?

If yes, how can I maximize clarity?
Some search terms are hard to misinterpret – say, "I need someone to fix my air conditioner". Very straightforward: someone has a problem and is looking for a service to fix it immediately.
However, it gets harder. If someone searches "fix air conditioner", are they looking for a someone to fix or replace their broken unit, or are they researching DIY solutions? It's ambiguous. That means you may waste clicks on irrelevant traffic from people who are definitely not interested in your service. The business that fixes air conditioning units needs to make unmistakably clear the focus of their business: service.
How To Add Maximum Clarity
Search term headlines are generally the most effective for maximizing clicks, but you want to maximize the RIGHT clicks, e.g. the clicks most likely to become leads. Thus, the smart advertiser knows when to bend the rule of matching headlines for maximum clarity – and ultimately, maximum leads.
Here's how: tell the Google user, straight out, what your business does. Use ad headlines and descriptions to clarify YOUR meaning for a particular keyword.
Say you own a house painting company. You may want to target "painting" as a keyword, since "house painting", "painting my house", "home painting services", etc. are searches you would definitely want to show up on. Great keyword, right?
Not necessarily. This one is tricky. This search term clearly brings in quality traffic, but it also brings in ambiguous clutter that wastes your budget. With this search term, you will also show up on "leonardo da vinci painting", "art painting classes", and "master painting course near me". Thus, you will have to handle this term carefully.
Of course, every time you check out your search terms you'll want to add those faulty terms as negative keywords – "art", "class", "classes", "master", "course", "leonardo da vinci", etc. But that's not all! You can also use your ad headlines and text to clarify what YOU mean by "painting".
Suppose someone searches "painting for my house". The person who entered this search COULD want "painting services for my house", or they could be looking for "paintings to decorate the walls of my house".
According to our rule of thumb, you would generally just make "Painting For Your House" the first headline of your ad. But, because you're savvier than that, you tweak it slightly for maximum clarity. "Professional House Painters" or "House Painting Contractors" are two of many possibilities.
Notice what we did here. Our first headline idea, "Professional House Painters", adds in the business-oriented term "professional", and it also tweaks "painting" to "painters", which more clearly communicates what your business is about. Our second headline idea also adds in the business-oriented term "contractors".
Bravo! These subtle tweaks added an extra layer of filtering. You accomplished maximum clarity for your business. And if your Google users read the headlines carefully, they will see that you aren't offering what they are looking for, and they are more likely to leave your ad alone.
Another Example
Say you own a remodeling business and you focus on remodeling kitchens and bathrooms. One search term you might want to advertise on is "kitchen remodel". Let's go back to our two questions.
Could this term ambiguous?

If yes, how can I maximize clarity?
Here, the answer to #1 is yes: someone searching "kitchen remodel" could want someone remodel their kitchen. Or they may be researching different ideas for a kitchen remodel. To maximize clarity, you might write headlines such as "Get A Kitchen Remodel Now" or "Professional Kitchen Remodeler".
Just like anything in AdWords, be sure to test different ideas for ad copy against each other. See which ones work best for you!
In The End
Ambiguity plagues many search terms. If someone isn't looking for a product or service, and you have product- or service-oriented business, you don't want to waste budget on clicks from people who aren't ready or wanting to buy.
Implement relevant, clear ads, and you will add an extra layer of filtering to your campaign and optimize the clarity of your ads to the fullest. Ultimately, your increase in leads will be worth it.
Similar Posts: